More than eight-in-10 workers' compensation cases in California were taken care of without a hitch, and an overwhelming majority of those cases sent to review were ultimately upheld, according to a new study detailing the outcomes of millions of cases in the first half of 2015.
The study from the California Workers' Compensation Institute released Wednesday shows that 15.3 percent of the workers' comp medical services requested for authorization – also known as RFA – from an injured worker's physician for a specific course of medical treatment underwent utilization review for medical necessity.
That means that nearly 85 percent of medical services examined in the study were paid for without being requested in RFAs and undergoing UR.
"That demonstrates that a very large majority of care is expedited and is paid for in very quick and routine way," CWCI President Alex Swedlow said.
Following California workers' comp reforms enacted in 2002-2004 and again 2012, the process of approving payment for medical care for injured workers has changed dramatically – most notably through the adoption of an evidence-based medicine medical treatment utilization schedule and the addition of independent medical review to resolve medical necessity disputes, the study notes.
Leading up to an IMR the approval process includes a series of checks and balances to reconcile an RFA from an injured worker's physician for a specific course of medical treatment with the Medical Treatment Utilization Schedule that defines the medical standard of care for workers' comp in California.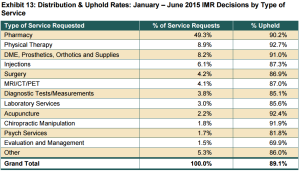 Components of medical review and dispute resolution can include review of medical reports and bills by claims adjusters, bill reviewers, nurses and utilization review physicians. When requested, the process includes an IMR from physicians.
In the first half of 2015, IMR physicians upheld 89.1 percent of the UR denials and modifications, while 10.9 percent were overturned, which is consistent with the 91 percent "uphold rate" noted in CWCI's analysis of 2014 IMR outcomes, the group's study states.
Just over 4 percent of the 5.6 million California workers' comp medical services reviewed in the study were modified or denied through the UR process, making them eligible for IMR if the injured worker chose to dispute the UR decision.
Of those denials and modifications that were appealed, less than 11 percent were overturned by the IMR physician, which translates to an estimated approval rate for all California workers' comp medical services of between 95.7 percent and 96.2 percent, according to the study.
It wasn't all good news. The study shows that the top 10 percent of all physicians involved in these IMR disputes were identified in more than 80 percent of all IMR letters, and less than 100 physicians, which comprised the top 1 percent, were named in four-in-10 IMR decision letters.
Additionally, nearly half of IMR decisions rendered between in the first half of 2015 involved disputes over prescription drugs, with one-third involving requests for opioids and 11 percent involving compounded drug requests, the study shows.
"It's a huge part of this," Swedlow said. "The proportion of drugs in IMR has increased."
According to him, 42 percent of IMR cases involved drugs in 2014, and that figure rose to 49 percent to for the first half of the year.
Swedlow expressed hopes for a fix that's on its way.
Assembly Bill 1124 signed in September by Gov. Jerry Brown instructs the Division of Workers' Compensation to implement a closed drug formulary by July 2017. The bill, introduced by Assemblyman Henry Perea, D-Fresno, would establish an evidence-based prescription drug formulary for the state's workers' comp system.
A CWCI study released last year shows that a closed drug formulary could save California between $124 million to $420 million.
Addressing whether the workers' comp system is better off after passage in 2012 of the state's massive reform law, Senate Bill 863, Swedlow offered: "That's a complicated question. It is upholding the standard of care to a very high degree."
While an increase in IMR volume may have added costs to the system, a 5 percent decrease in medical costs has been observed, he said.
That 5 percent reduction comes from several provisions in SB 863, including a fee schedule, a more effective review process and addressing duplicate costs in surgical hardware, according to Swedlow.
"Right now there is evidence that many elements of SB 863 are working as the Legislature intended," he said.
Related:
Was this article valuable?
Here are more articles you may enjoy.