Ford announced that it is officially enrolled in the California Autonomous Vehicle Tester Program to test autonomous vehicles on public roads, and fully autonomous Ford Fusion Hybrid sedans are set to take to California streets next year.
The testing is an advancement of Ford's 10-year autonomous vehicle development program and part of Ford Smart Mobility, a plan involving connectivity, mobility, autonomous vehicles, customer experience, and data and analytics.
Much of the research is being conducted at the Ford Research and Innovation Center Palo Alto, which employs more than 100 researchers, engineers and scientists. The research lab opened in January.
Research the lab has conducted this past year includes: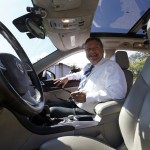 Autonomous vehicle virtual test drive: This study allows virtual interaction between an autonomous car and pedestrians, replicating real-world situations to develop responses to unexpected things that can happen on the road.
Sensor fusion: Sensors on autonomous vehicles detect and track objects in the vehicle's view, fusing information together to provide a 360-degree view of the car's surroundings.
Camera-based pedestrian detection: Camera sensors serve as the eyes of a vehicle, allowing the car to sense pedestrians.
Related:
Was this article valuable?
Here are more articles you may enjoy.