A Cowlitz County, Wash. judge has ordered insurers to pay the Port of Longview $2.45 million in attorney fees in an ongoing lawsuit over soil contamination.
The Daily News reported that the order is the latest development in complex case related to decades-old soil contamination. The port sued more than 40 insurance companies tied to British insurance market exchange Lloyd's of London in 2010 to force them to pay for contamination.
Cleanup of the soil is expected to cost more than $200 million. The London insurers say they shouldn't have to cover damage done by other industries.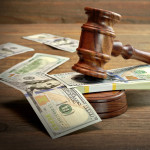 The port's attorneys were not immediately available for comment.
Copyright 2017 Associated Press. All rights reserved. This material may not be published, broadcast, rewritten or redistributed.