Ridesharing company Lyft has locked in a deal to operate at Reno-Tahoe International Airport.
The Reno-Gazette Journal reported that Lyft obtained an agreement Friday to expand operations and will get to join Uber in doing pickups at the airport.
Reno-Tahoe Airport Authority president and CEO Marily Mora says the new service expands options for travelers riding downtown, to casinos and shopping malls and to ski lifts.
Mora said there are about 3.4 million passengers who use the airport annually.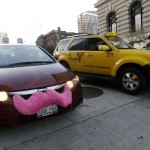 "It was important that all ground transportation operations be treated fairly, and therefore proper permitting with these unique operators was necessary," Mora said. "Now whether passengers choose Lyft, Uber, a taxi, limo, shuttle or private vehicle, there are multiple options to get them where they need to go."
It was announced last week that Uber could operate at the Reno airport. Approved ridesharing drivers have a designated pick-up and drop-off spot north of baggage claim.
The news marks a defeat for the state's taxi industry. An audit this month found the Nevada Taxicab Authority grossly overcharged taxi customers in the Las Vegas area to the tune of $47 million a year.
Auditors for the governor's finance office blamed a $3 credit card processing fee that they say is much higher than in other cities and probably shouldn't exist. They also criticized a decision to increase a fuel surcharge even as gas prices are tanking, saying having the surcharge at all is unique among the 12 major Western cities that the taxi board tracks.
Auditors were so critical of the Nevada Taxicab Authority that they recommended abolishing it and turning over its duties to another agency.
Ron Grogan, chief of the authority, has said the taxi board would have to discuss the recommendations before making changes. But he acknowledged that his agency had probably outlasted its usefulness and struggled amid complex regulations.
The taxi industry, which makes big bucks taking tourists on a 5-mile trip from the airport to the Strip, fought hard against allowing the companies before losing its battle in the Legislature last spring.
Related:
Copyright 2020 Associated Press. All rights reserved. This material may not be published, broadcast, rewritten or redistributed.
Was this article valuable?
Here are more articles you may enjoy.