Travelers to and from Las Vegas can now take an Uber to and from McCarran International Airport as the company has reached an agreement with the airport.
The Las Vegas Sun reported that the airport's Uber ban was lifted this week.
The ridesharing company began operating in Southern Nevada in September, but Clark County official prohibited the company from operating at the airport because Uber was unwilling to agree to language in an airport permit that could have exposed the identities of their drivers.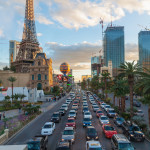 Since October, the airport has been off-limits for Uber but fair game for competitor Lyft. Uber drivers have still been making the trip though, with the county issuing nearly 1,600 unauthorized Uber rides as of Dec. 1.
Related:
Copyright 2020 Associated Press. All rights reserved. This material may not be published, broadcast, rewritten or redistributed.
Was this article valuable?
Here are more articles you may enjoy.