Alphabet Inc.'s Google self-driving car struck a municipal bus in a minor crash, in what may be the first case of one of its autonomous cars hitting another vehicle.
In a Feb. 23 report filed with California regulators, Google said the Feb. 14 crash took place in Mountain View, Calif., when a self-driving Lexus RX450h sought to get around some sandbags in a wide lane.
The vehicle and the test driver "believed the bus would slow or allow the Google (autonomous vehicle) to continue."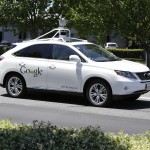 But three seconds later, as the Google car reentered the center of the lane it struck the side of the bus, causing damage to the left front fender, front wheel and a driver side sensor. No one was injured.
(Reporting by David Shepardson; Editing by Chris Reese)
Related:
Topics California Auto Personal Auto
Was this article valuable?
Here are more articles you may enjoy.