A woman has filed a nearly $1 million lawsuit against a Florence, Ore. nursing home that cared for her 83-year-old father, claiming that it didn't do enough to address health symptoms that led to his death.
The Register-Guard reported that Diane Richter's suit filed in Lane County Circuit Court says her father moved into Regency Florence in October 2014 and stayed there until nine days before his March 2015 death.
Richter claims nursing home employees failed to properly care for her father's nutrition and hydration needs, leading him to suffer severe dehydration and kidney failure before his death.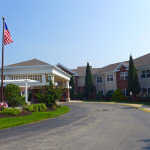 Regency Florence and its corporate parent, Regency Pacific, which operates 40 care facilities in four Western states, declined to comment on the pending litigation.
Copyright 2021 Associated Press. All rights reserved. This material may not be published, broadcast, rewritten or redistributed.
Topics Lawsuits Oregon Senior Care
Was this article valuable?
Here are more articles you may enjoy.