As the California Department of Insurance stages hearings on proposed regulations designed to give more money to auto body repair shops, a handful of property/casualty insurance trade associations are voicing their opposition to the proposals.
The groups are: The American Insurance Association, the Association of California Insurance Companies, the National Association of Mutual Insurance Companies, the Pacific Association of Domestic Insurance Companies and the Personal Insurance Federation of California.
CDI is proposing auto body labor rate survey and steering regulations. The auto body labor rate survey regulation is a prescriptive approach on how companies should conduct a labor rate survey. CDI initially estimates that these regulations would cost roughly $1.17 million.
Both regulations exceed CDI's authority and are examples of regulatory overreach that will ultimately drive up costs for consumers, the associations argue.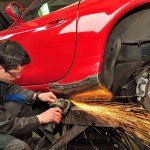 The trade associations also disagree that the regulations will benefit consumers as "higher labor rates" could increase insurance premiums.
"The frequency and severity of auto accidents are increasing nationally and are causing California auto body repair costs to skyrocket," Armand Feliciano, ACIC vice president, said in a statement. "California's total loss cost per insured car has been climbing and its growth rate since 2013 is now the 4th highest in the nation. CDI's proposed regulations are untimely because they add costs to a system already struggling with surging costs. These costs could increase premiums paid by California drivers."
Was this article valuable?
Here are more articles you may enjoy.