Several people were injured and one person had to be rescued after a tornado destroyed several homes and damaged a dozen others over the weekend in Baker in eastern Montana.
National Weather Service meteorologist Wright Dobbs confirmed the tornado, and said it happened at roughly 7 p.m.
Authorities say everyone in the town of about 1,900 people near the North Dakota border has been located.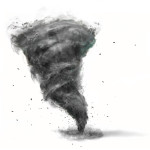 Electricity was out and phone service was limited after the storm hit.
Dobbs says severe weather, including hail up to 2 inches in diameter, was reported near Miles City, 80 miles west of Baker.
Copyright 2021 Associated Press. All rights reserved. This material may not be published, broadcast, rewritten or redistributed.
Was this article valuable?
Here are more articles you may enjoy.