A wildfire burning in central New Mexico grew to more than three square miles late Wednesday, sending up a towering plume of smoke that swelled as afternoon temperatures soared and eventually blanketed the state's largest city in a thick haze.
The blaze burning in the Manzano Mountains southeast of Albuquerque prompted Gov. Susana Martinez to declare an emergency, clearing the way for state funds to be used.
In addition to the emergency declaration, Martinez directed state agencies to offer all available resources to assist local authorities.
Martinez said the first priority is the health and safety of New Mexicans.
"Property can be replaced, but lives cannot," she said. "As our coordinated response to the fire continues, I ask New Mexicans to be mindful of this and to not take unnecessary risks."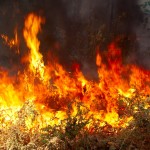 Fire officials said the blaze was about 7 miles from the community of Chilili, made up of dozens of residents who live in homes scattered through the pinon and juniper dotted hills that abut the Cibola National Forest.
Officials late Wednesday night said evacuations were ordered for Bernalillo County residences from the junction of Highways 217 and 337 south to the Torrance County line. But there was no immediate word on how many people that order encompassed.
Fire officials also announced voluntary evacuations for residences from the Torrance County line south to Highway 55 and from Highway 337 to the west.
Shelters have been set up in Estancia and Tijeras, authorities said.
The fire nearly tripled in size from Wednesday morning, with the growth fueled by dry conditions, hot temperatures and afternoon winds.
Good weather the previous night helped firefighters attack the flames, and officials were hoping for more favorable conditions Wednesday night.
The fire was being fought by ground crews and air tankers.
Cause of the fire is under investigation.
Copyright 2021 Associated Press. All rights reserved. This material may not be published, broadcast, rewritten or redistributed.
Was this article valuable?
Here are more articles you may enjoy.