Firefighters were expecting a wildfire burning near Coaldale to grow Wednesday in dry, windy weather but crews are working toward getting the blaze contained near the town between Canon City and Salida.
However, the Hayden Pass Fire, which has forced the evacuation of about 100 homes, will likely burn for some time in the Sangre de Christo Wilderness where it flared up Sunday.
It's burning on about 19 square miles with no containment.
Fire spokesman Kyle Sullivan says crews are using bulldozers and shovels to build lines away from the lightning-caused fire so they can set back burns between the fire and those lines later this week.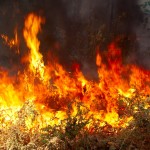 He says the area burned by the 2011 Duckett Fire and its containment lines are helping hold the fire to the east.
Elsewhere, work is winding down on the Cold Springs Fire near Nederland. Some of the 2,000 evacuees were allowed to return home Wednesday.
The 528-acre fire has destroyed eight homes since breaking out on Saturday and is 25 percent contained. Two men from Alabama are accused of starting it by not fully extinguishing their campfire.
They're expected to appear in court Wednesday and learn what criminal charges prosecutors will pursue against them.
Copyright 2020 Associated Press. All rights reserved. This material may not be published, broadcast, rewritten or redistributed.
Was this article valuable?
Here are more articles you may enjoy.