The federal government is suing a California homeowner for nearly $25 million, contending his negligence sparked a 2013 fire in the mountains east of Los Angeles that forced 5,000 people from their homes.
The lawsuit says that a short in a poorly maintained electrical junction box sparked a blaze in the San Jacinto Mountains above Palm Springs that charred more than 27,500 acres of brush and timber, roughly 43 square miles, and at one point threatened the town of Idyllwild.
Investigators determined that the lid of the plastic box containing wires was warped and ajar, the lawsuit said.
"As a result, an electrical discharge inside the box shot sparks and hot material out of the box and onto dry ground vegetation below," according to the lawsuit.
"Property owners and their agents have a responsibility to ensure that property under their control is maintained in a safe fashion," U.S. Attorney Eileen M. Decker said in a statement.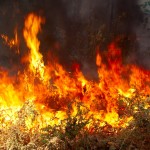 The fire endangered "countless lives, including those of firefighters who battle these large-scale blazes," she said.
The fire burned for more than two weeks in and around San Bernardino National Forest. More than 3,000 firefighters, 250 fire engines and 30 aircraft fought the blaze.
The U.S. Forest Service spent more than $15 million on firefighting, and the blaze caused in excess of $9 million in damage to resources, ranging from wildlife and timber to eroded soil, according to the lawsuit. More than $300,000 was spent on emergency rehabilitation of the area.
The lawsuit, which alleges negligence and violations of California law, was filed in Los Angeles one day before the third anniversary of the fire's eruption. It names Tarek M. Al-Shawaf and two caretakers he employed at his home, known as Gibraltar West, in the community of Mountain Center.
The lawsuit was filed after Al-Shawaf and the caretakers failed to pay the costs of firefighting and fire damage demanded by the government, according to the lawsuit.
Messages for Al-Shawaf's attorney, James Lance of San Diego, weren't immediately returned.
Related:
Copyright 2021 Associated Press. All rights reserved. This material may not be published, broadcast, rewritten or redistributed.
Topics Lawsuits California Catastrophe Natural Disasters Wildfire Homeowners
Was this article valuable?
Here are more articles you may enjoy.