The founder of WorkCompCentral died on Sunday in a motorcycle crash, according to employees reporting on the website.
David DePaolo, 56, was reportedly in the Santa Monica Mountains near Malibu Hills, Calif. in the afternoon when he hit an embankment, according to WorkCompCentral, where DePaolo served as president and CEO.
The cause of death is uncertain, according to the site.
One peer remembered him as an "innovative thinker," with a passion for the subject of workers' comp.
"David was a very innovative thinker in our industry," said Adam Friedlander, president of Friedlander Group Inc. in Purchase, N.Y. "David had interesting and insightful thoughts on our industry and delivered them honestly, letting the chips fall where they may."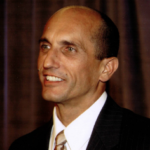 David Weiss, director of education for WorkCompCentral, said DePaolo was an experienced rider who knew the terrain he was riding on well.
"It just doesn't make sense to us," Weiss said. "I have no idea how this happened."
Weiss said that while DePaolo made a name for himself in workers' comp circles, it's his leadership for which those serving under him may remember him most.
"He was the best boss anybody could have," Weiss said. "He treated us all fairly and with dignity and respect."
DePaolo was a workers' comp defense attorney in Southern California before launching WorkCompCentral in 1999.
He earned a Juris Doctor from Pepperdine University School of Law in 1984 before going into legal practice. He practiced as a workers' comp defense attorney for Miller & Folse, Adelson Testan Brundo & Popalardo, according to WorkCompCentral.
He is survived by his wife, Anne, daughter Nicole and son Anthony.
Commenters who visited his site, where his death was first announced, used terms like "loyal friend," "wonderful conversationalist," "thoughtful, kind and respectful," and "force in our workers' comp industry."
Friedlander also remembered DePaolo for his contributions to the workers' comp industry.
"David was a thought leader and had so much more to contribute to the improvement of our industry," Friedlander said. "It's a sad day and a big loss."
Topics Workers' Compensation
Was this article valuable?
Here are more articles you may enjoy.