Wesley J. Kinder was a California insurance commissioner who served during a turbulent time.
Kinder, a resident of La Habra, Calif., died Wednesday at age 94.
"He was a great guy. He was the best boss," said Roger McNitt, a San Diego-based attorney who served as Kinder's chief assistant insurance commissioner.
Kinder was appointed insurance commissioner by Gov. Jerry Brown during his first stint as the state's governor and served from 1975 to 1980. He served as the state's chief assistant insurance commissioner under Gov. Ronald Regan.
He was born in Dubuque, Iowa on Sept. 8, 1921 to Samuel and Elizabeth Kinder. He was the oldest of our children.
He got into the insurance industry through the mail room at Hawkeye Mutual in Iowa and "worked his way from nothing," McNitt said.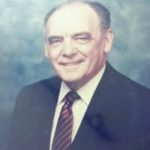 Kinder later became the regional manager for General Re on the West coast, and served as executive vice president of Freemont Indemnity.
He served as president of the National Association of Insurance Commissioners in 1980.
"He was very knowledgeable in reinsurance and property/casualty insurance," McNitt said.
Kinder came into office as California insurance commissioner when the Medical Injury Compensation Reform Act, MICRA, was being hammered out. Among its many changes to the state's medical malpractice landscape, it capped non-economic damages.
"He was the technical expert for Gov. Brown on the MICRA bill," McNitt said. "He was the genius behind the actuarial side of that. He served at a time when there was a big crisis in insurance."
He is survived by his daughter, Kathy Kearney, and her husband Tom; 3 siblings: James Kinder (wife: Diane), Mary Kalisch, and Betty Ramm, as well as 4 grandchildren: Caitlin, Kyle, Corey and Claire, plus numerous nieces and nephews. He was preceded in death by his wife Annette.
Kinder is being flown back to Iowa. A rosary is set for Thursday at 5 p.m. at the Caldwell Perish Funeral Home and Crematory in Urbandale. Visitation will follow the rosary. The funeral mass is also Friday at 10 a.m. in the Holy Trinity Church in De Moines.
A breakfast or lunch is being planned to honor Kinder during the upcoming NAIC meeting in August San Diego. Memorial Donations can be made to the Basilica of the National Shrine of the Immaculate Conception.
Topics California Iowa
Was this article valuable?
Here are more articles you may enjoy.