Scientists say two moderate earthquakes occurred off the Oregon and California coasts late Saturday and early Sunday but neither triggered a tsunami warning.
The U.S. Geological Survey says a 5.0 earthquake occurred in the Pacific Ocean about 93 miles southwest of Gold Beach, Oregon, at about 10 p.m. Saturday.
Scientists say a 4.6-magnitude quake in the ocean about 97 miles west of Brookings, Oregon, followed at about 3 a.m. Sunday.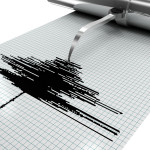 Neither quake prompted a warning from the National Tsunami Warning Center.
Copyright 2019 Associated Press. All rights reserved. This material may not be published, broadcast, rewritten or redistributed.
Was this article valuable?
Here are more articles you may enjoy.