A Puyallup, Wash. construction company faces a large fine for numerous repeated safety violations that exposed workers to potential falls and other hazards at a residential construction site in Olympia, according to the Washington State Department of Labor & Industries.
L&I has reportedly cited J & I Construction for 13 violations, with penalties totaling $203,420.
The three violations, each with a penalty of $42,000, were for not providing proper fall protection to three employees who were working on the top edge of a wall nearly 20 feet off the ground, and the company has been cited two other times for the same issue, according to L&I.
J & I was also cited for three repeat violations for not having a plan outlining the fall hazards on the specific job, exposing workers to unguarded wall openings that they could fall through and for not ensuring that workers didn't stand or step on the top of a self-supporting ladder. Each violation carries a penalty of $21,000.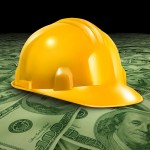 The company was cited for two additional repeat violations for not having railings on open-sided stairs to protect employees from falls ($5,600), and for not ensuring that employees wore hard hats where there was a danger of flying or falling objects ($4,200). They were also cited for not having safety springs on nail guns to protect against accidental discharges ($2,800).
The employer was cited for a third-time with a $700 penalty for not conducting walk-around safety inspections, and a fourth-time with a $1,120 penalty because no one onsite had a valid first-aid card. L&I also cited the company for two general violations that did not include monetary penalties.
As a result of the violations, J & I Construction is now considered a severe violator and will be subject to follow-up inspections to determine if the conditions still exist in the future.
The company has 15 business days to appeal the citation.
"Seven construction workers fell to their deaths last year in our state," Anne Soiza, assistant director for L&I's Division of Occupational Safety and Health, said in a statement. "Falls continue to be the leading cause of construction worker deaths and hospitalizations, and yet they are completely preventable by using proper fall protection and following safe work practices."
Was this article valuable?
Here are more articles you may enjoy.