A Colorado jury will decide if Vail Resorts properly closed an expert ski run where a teenager was killed in an avalanche.
District Judge Fred Gannett ruled last week that jurors must decide if signs on the run called Prima Cornice were sufficient when 13-year-old Taft Conlin was swept away in January 2012.
The upper gate on the run was closed, but the lower gate was left open.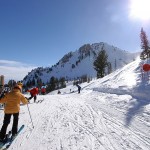 The Vail Daily reported the boy accessed Prima Cornice through the lower gate, as several others had already done that day. Gannett says if Vail Resorts knew skiers would get in through the lower entrance, jurors could find that the company "at the least tacitly condoned this access."
The Vail Resorts' media office declined to comment about the case, which is set for trial in August.
Copyright 2020 Associated Press. All rights reserved. This material may not be published, broadcast, rewritten or redistributed.
Was this article valuable?
Here are more articles you may enjoy.