Officials estimate a February storm that cut power to thousands of homes in Teton County, Wyo. and prompted a disaster declaration caused nearly $3 million in damages.
The Jackson Hole News and Guide reported Nancy Casper with the Federal Emergency Management Agency says some of the repairs related to the Feb. 7 storm will be covered by federal funds. But the county will have to look elsewhere for money to cover flooding damage that came after the storm.
The storm brought down 17 steel transmission line poles, cutting power to the Teton Village ski town, Jackson Hole Mountain Ski Resort and surrounding residential areas.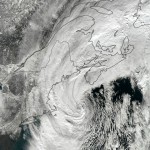 Teton County commissioners issued a disaster declaration and Gov. Matt Mead requested the federal assistance.
FEMA representatives have been assessing the damage in the area.
Copyright 2020 Associated Press. All rights reserved. This material may not be published, broadcast, rewritten or redistributed.
Was this article valuable?
Here are more articles you may enjoy.