A small earthquake has rattled parts of the Southern California coast.
The U.S. Geological Survey confirmed the magnitude-3.6 quake hit just before 11 a.m. Sunday about 3 miles east of Santa Barbara.
A sheriff's dispatcher says there are no immediate reports of damage or injury.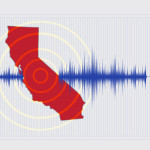 The geological survey's website had hundreds of reports of people feeling the shaking nearly 60 miles to the north in Lompoc and as far south as Los Angeles County.
Copyright 2020 Associated Press. All rights reserved. This material may not be published, broadcast, rewritten or redistributed.
Was this article valuable?
Here are more articles you may enjoy.