The nation's largest wildfire is burning in Utah and has forced more than 1,500 people from their homes and cabins in a mountain area that's home to a ski town.
Firefighters battled high winds Monday as they fought a fire that has grown to 72 square miles and burned 13 homes.
Fire crews faced dry, windy conditions Tuesday and a high potential for extreme fire behavior, officials said late Monday.
The estimated firefighting costs now top $7 million for a fire started June 17 near the Brian Head Resort by someone using a torch tool to burn weeds, they said. Investigators said they know who the culprit is, but they haven't yet released the person's identity or what charges will be leveled.
The fire began near the ski resort town of Brian Head. It has spread several miles east to an area around Panguitch Lake, a popular spot for fishing.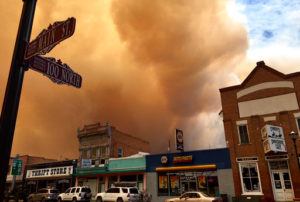 Authorities ordered more evacuations Monday in a sparsely populated area as stronger winds and lower humidity develop that could push fire growth north after calmer weather kept its growth in check over the weekend. The fire is about 10 percent contained.
About 175 people have been briefly allowed back to their homes near Panguitch Lake since Sunday under escort, said Denise Dastrup with the Garfield County Sheriff's Office.
Copyright 2021 Associated Press. All rights reserved. This material may not be published, broadcast, rewritten or redistributed.
Topics Catastrophe Natural Disasters Wildfire Utah
Was this article valuable?
Here are more articles you may enjoy.