An Arizona wildfire that forced thousands from their homes and came dangerously close to consuming a town was 43 percent contained by Thursday evening, authorities said.
Roughly 1,400 evacuated residents of the community of Mayer were allowed to go home earlier in the day and Yavapai County Sheriff Scott Mascher estimated 2,000 other residents of other small communities remained out of their homes.
Campgrounds were also emptied and 1,400 children attending summer camps were bused out as the fire approached.
The fire, which has now burned about 45 square miles, was one of the top firefighting priorities in the U.S. after it rapidly grew while burning through a dense, rugged forest.
More than 800 firefighters were battling the blaze burning in the communities around Prescott, which draws a mix of desert dwellers escaping the heat, retirees and visitors to its famed Old West-themed Whiskey Row lined with bars.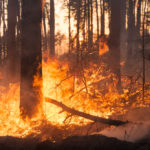 Arizona Gov. Doug Ducey toured the fire zone about 100 miles north of Phoenix and thanked firefighters.
The flames crossed a road a day earlier and approached the town of Dewey-Humboldt, but officials said firefighters saved the community from devastation.
Authorities estimated that the fire burned a handful of homes, but did not have an exact count.
The blaze also forced evacuations for children and campers in a cooler part of Arizona that many head to in the summer to escape the stifling heat.
About 1,400 children had to leave summer camps run by churches and the YMCA among others where children swim, ride horses and participate in outdoor games and activities. Several campgrounds – normally popular sites for the July Fourth weekend – were also forced to close.
Firefighters on Thursday were also battling wildfires in California, New Mexico, Utah and Washington state.
The Arizona blaze grew slightly overnight but fire officials said lower wind speeds would make it easier for firefighters to try to quell it.
Higher humidity also helped firefighters on Wednesday despite a temporary halt to aircraft operations because of an unauthorized drone flying in the area. Several helicopters and fire crews had to stop working for about 45 minutes to an hour because the drone posed a serious safety hazard. Authorities did not find the pilot.
Ducey, Arizona's governor, noted that Friday marks the four-year anniversary of a wildfire that killed 19 elite firefighters in Yarnell, about 45 miles southwest of Prescott Valley.
He praised "the elite status of those young men that we lost. And I wanna take that same type of spirit out as we fight this fire over the Fourth of July holiday weekend."
Elsewhere, hundreds of people forced from their homes by a Utah wildfire were expected to return even as the blaze grew.
Fire managers said Thursday at 25-mph wind gusts expanded the wildfire near the ski resort town of Brian Head to more than 91 square miles, though firefighters boosted its containment to 15 percent. The fire was ignited by someone using a weed-burning torch.
In Southern California, a wildfire burning on the Camp Pendleton Marine Corps base and in the city of San Clemente was about 10 percent contained. Officials there say higher humidity levels slowed the fire's pace.
Fires that flared dangerously close to homes in the Hollywood Hills neighborhood of Los Angeles and in the city of Burbank were knocked down.
Copyright 2021 Associated Press. All rights reserved. This material may not be published, broadcast, rewritten or redistributed.
Was this article valuable?
Here are more articles you may enjoy.