State officials has cited and fined a California ski resort for violating two workplace safety codes following an investigation into a ski patroller's death.
KRNV-TV reported 42-year-old Squaw Valley Ski Resort patroller Joe Zuiches died in January while working avalanche control.
California's Division of Occupational Safety and Health concluded the resort failed "to correct an identified unsafe working condition" in regards to hang cord the patrollers were using. The division also cited the resort for "failing to ensure that all crewmembers maintained visual contact or awareness" with each other.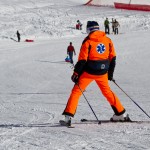 Fellow patrollers found Zuiches dead in the last place he was seen after a couple of explosive detonations spurred radio silence from him.
The ski resort was fined a total of $20,250.
Copyright 2020 Associated Press. All rights reserved. This material may not be published, broadcast, rewritten or redistributed.
Was this article valuable?
Here are more articles you may enjoy.