The extreme heat this summer in Las Vegas has been causing a multitude of delays and cancellations at McCarran International Airport, including one airline that suspended service for the season and another that had to adjust its departure schedule.
Airport crews say effects of the heat have been so widespread that there's no distinct way to track the delays.
A recently published study in the journal Climate Change states airlines will have to make some tough economic choices as heat waves become more common worldwide.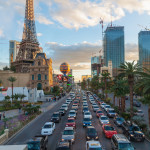 Air becomes thinner or less dense as temperatures rise, making it difficult to take off when planes are filled with passengers, cargo and fuel.
Copyright 2020 Associated Press. All rights reserved. This material may not be published, broadcast, rewritten or redistributed.
Was this article valuable?
Here are more articles you may enjoy.