An Amtrak passenger train derailed near the Washington State town of DuPont, sending rail cars plunging onto a busy interstate during the morning rush hour and resulting in injuries and deaths.
Washington State Patrol Trooper Brooke Bova, a public information officer, said "multiple cars" of the train derailed and some had fallen onto the freeway from a railway overpass. She said she could not release information about injuries or fatalities.
The Associated Press reported there were both "injuries and casualties."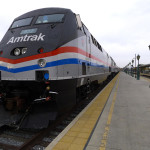 Amtrak said in a Tweet is it aware of the incident, which involves train No. 501 that was southbound from Seattle heading for Portland, Ore. The accident occurred near DuPont, Washington, roughly 50 miles south of Seattle, at about 7:30 a.m. Monday.
The accident prompted the closure of all southbound lanes of Interstate 5 in Pierce County near Mounts Road, the Washington State Department of Transportation said on its website. Amtrak suspended service south of Seattle.
The National Transportation Safety Board is gathering information about the accident, a spokesman for the agency said.
Copyright 2019 Bloomberg.
Was this article valuable?
Here are more articles you may enjoy.