The oldest victim swept away in a California mudslide was Jim Mitchell, who had celebrated his 89th birthday the day before. He died with his wife of more than 50 years, Alice.
The youngest, 3-year-old Kailly Benitez, was one of four children killed.
As their names and those of 14 other victims were released Thursday, crews kept digging through the muck and rubble looking for more people.
The number of reported deaths from the mudslide has reached 17.
"At this moment, we are still looking for live victims," Santa Barbara fire Capt. Gary Pitney said. But he confessed: "The likelihood is increasing that we'll be finding bodies, not survivors. You have to start accepting the reality of that."
The Mitchells were in love with their home in the seaside enclave of Montecito where they moved in 1995, according to their daughter. They also loved their dog, Gigi, who is missing.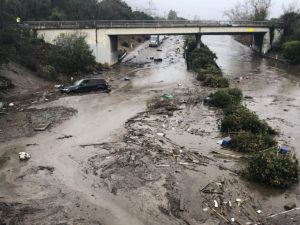 The other children killed were 6-year-old Peerawat Sutthithepn, 10-year-old Jonathan Benitez and 12-year-old Sawyer Corey. None of the adult dead shared their last names.
All of the dead were killed by "multiple traumatic injuries due to flash flood with mudslides," authorities said.
Five people were missing as of early Friday, down from as many as 43 a day earlier, said Amber Anderson, a spokesperson for Santa Barbara County.
Sheriff Bill Brown gave the larger number Thursday but cautioned that many or most of those people may simply have been unreachable to the family and friends who reported they couldn't find them.
"We were able to find people," Anderson said, but added that the number could continue to fluctuate greatly. She said some missing-person reports are quickly cleared but others take time to resolve.
Pitney said many rescues were still happening Wednesday and Thursday, but most if not all were of people who were safe but just wanted to get out of the area.
Among the searchers were more than a dozen firefighters who climbed through rubble in the backyard of a mansion that had been torn apart. Some rescuers used poles to probe the muck for bodies, while others waded chest-deep in the mire. Two black Labrador retrievers swam around a debris-filled swimming pool, trying to pick up any scent.
Crews marked places where bodies were found, often far away from a home, and used that information to guess where other victims might have ended up as the surging mud carried or buried them.
The mudslide, touched off by heavy rain, took many homeowners by surprise early Tuesday, despite warnings issued days in advance that mudslides were possible because recent wildfires had stripped hillsides of vegetation that normally holds soil in place.
The disaster was already unfolding when Santa Barbara County officials sent out their first cellphone alert at 3:50 a.m. County emergency manager Jeff Gater said officials decided not to send one sooner out of concern it might not be taken seriously.
As the rainwater made its way downhill with gathering force, it pried boulders from the ground and picked up trees and other debris that flattened homes, cars and carried at least one body a mile away.
Related:
Copyright 2020 Associated Press. All rights reserved. This material may not be published, broadcast, rewritten or redistributed.
Was this article valuable?
Here are more articles you may enjoy.