The Earthquake Brace + Bolt program closed its latest registration with more than 7,500 California homeowners applying for 2,000 retrofit grants.
The EBB, funded primarily by the California Earthquake Authority, closed registration on Friday.
The CEA reported the turnout on Monday.
EBB is designed to help lessen the potential for earthquake damage to qualifying older houses by granting up to $3,000 toward a seismic retrofit.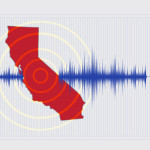 "A record number of Californians signed up for EBB this year, and that is another indication of the growing awareness in our state of the need to become better prepared for the next damaging earthquake," CEA CEO Glenn Pomeroy said in a statement.
In early March, qualifying homeowners will be selected through a random drawing to either participate in the EBB program or be placed on the waiting list. Wait-listed homeowners may be accepted into the program throughout the year, according to the CEA.
The EBB program targets homes that were built before 1979, with an emphasis on pre-1940 houses. All of the target houses have a raised concrete foundation, and some have wood-framed walls in the crawl space under the first floor. A brace-and-bolt seismic retrofit braces the cripple walls and bolts the house to its foundation, to help keep the house from collapsing or from toppling off the foundation.
EBB is managed by CEA and the California Governor's Office of Emergency Services through a joint powers authority. It has grown in the past five years from four ZIP Codes to 185 ZIP Codes. To date, EBB has funded more than 4,250 retrofits.
EBB funds come primarily from CEA, the state's not-for-profit residential insurance provider formed in the wake of the Northridge earthquake in the mid-1990s.
Was this article valuable?
Here are more articles you may enjoy.