Compassion and helping others were the key takeaways from a message that Jim Darling delivered to a group of several hundred insurance professionals gathered to honor him in Los Angeles, Calif. on Thursday night.
Darling, regional executive officer for Chubb's Pacific region, was recognized by the Insurance Industry Charitable Foundation's Western division during its annual Horizon Award Gala at the Globe Theater, where a crowd of insurance professionals, community leaders and representatives from local nonprofits were gathered.
Darling, the IICF's 2018 Golden Horizon Award recipient, was recognized for his leadership and philanthropic commitment during a night that also raised money for the foundation's charitable causes.
Jon Axel, the IICF Western division chair, and managing partner for the Liberty Company Insurance Brokers, introduced Darling.
"We're honoring a friend and a leader and a mentor in our industry," he said.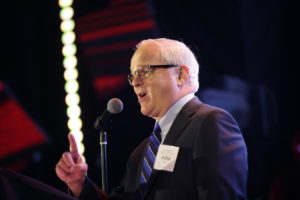 Axel talked about Darling's 35-plus-year career in the industry and his work with the Cystic Fibrosis Foundation, including his efforts to help raise $1.5 million for that charity.
Darling began his career with Chubb & Son as a summer intern in 1981, and eventually became an underwriter. Darling worked his way up the ranks, from senior vice president of worldwide marine and energy manager in 1995 to stints as a branch manager overseeing major cities. He is currently responsible for Chubb's eight Pacific branches, which account for a reported $2.5 billion in premium.
Darling has led several IICF committees and currently serves on its Western division executive committee.
In a speech near the end of the event, he thanked his family for their support of him during his career, and for supporting his charitable efforts.
"I'm very proud of my family," he said.
He said that insurance professionals are naturally supportive of the community, as they pay claims to help people rebuild and recover from disasters, and they take care of clients in need
"There is plenty of room for compassion in our business," he added.
Darling also talked about his work with the Cystic Fibrosis Foundation, which he's been involved with since 1988.
At the time he began his work with the foundation, a child diagnosed with cystic fibrosis, a progressive, genetic disease that causes lung infections and limits the ability to breathe over time, could expect live to age 18 or 19. Today, thanks in part of scientific research supported by that foundation, a child diagnosed with the disease can expect to live to 47, he noted.
A $10,000 check was donated to the Cystic Fibrosis Foundation in his honor following his speech.
Another recipient of IICF's charitable efforts is the Los Angeles Fire Department Foundation.
LAFD Deputy Chief Graham Everett was at the event to talk about how IICF funding for the foundation his improved conditions for firefighters.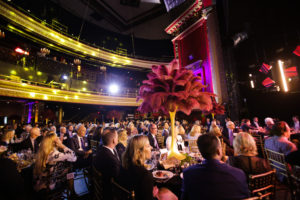 "We really don't have a lot of money for necessities," he said.
The foundation has helped with the purchased of light weight brush fire helmets for all LAFD firefighters, extractors to clean dangerous carcinogens off of equipment that has been exposed to flames and smoke, custom flashlights, specialized chairs for carrying victims, veterinary care for urban search and rescue canines, equipment for forensic investigations, and drones, he said.
"We could not do the work that we do without the foundation," he told the audience.
Jerry Pickett, the Horizon Award Gala dinner chair and CEO of the Liberty Company Insurance Brokers, along with other IICF board members, presented Everett with a $15,000 check for the foundation.
The IICF Western Division also announced $324,000 in grants for 42 charitable organizations at the gala, and a live auction during the evening garnered thousands of dollars for items up for bid that included Lakers, Kings and Angels tickets, an exclusive wine tasting getaway, and a stay in a beach-front condo in Maui.
The IICF Western division reported granted $529,000 in 2017 in support of local nonprofit and charity organizations dedicated to addressing causes related to children at risk, education and human services.
The IICF is a nonprofit that taps the resources of the insurance industry to help communities and enrich lives through grants, volunteer service and leadership. The charity has reportedly contributed $28.7 million in community grants, along with more than 270,000 volunteer hours by more than 100,000 volunteers, to of charities and nonprofit organizations.
Related:
Topics Market Leadership Chubb
Was this article valuable?
Here are more articles you may enjoy.