Nearly 1,500 residents were ordered to evacuate from their volcano-side homes after Hawaii's Kilauea Volcano erupted, sending molten lava to chew its way through forest land and bubble up on paved streets.
Volcano officials couldn't predict how long eruption that started Thursday may last, prompting Hawaii's governor to activate the National Guard to help with evacuations and provide security to about 770 structures left empty when residents sought shelter.
There were no immediate reports of injuries.
Hawaii County officials said steam and lava poured out of a crack in Leilani Estates, which is near the town of Pahoa on the Big Island.
Footage shown on local television showed lava spurting into the sky from a crack in a road. Aerial drone footage showed a line of lava snaking through a forest.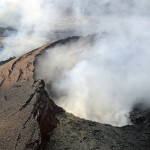 The U.S. Geological Survey said new ground cracks were reported Thursday afternoon. Hot vapor emerged from a crack and spattering lava began to erupt.
Scientists said areas downslope of the erupting vent were at risk of being covered by lava. Leilani Estates appeared to be at greatest risk, but scientists said new vents and outbreaks could occur and it's not possible to say where.
The eruption comes after days of earthquakes rattled the area's Puna district. A nearby school was closed due to the ongoing seismic activity and several roadways cracked under the strain of the constant temblors. A magnitude 5.0 earthquake was recorded hours before the eruption began Thursday.
The Puu Oo crater floor began to collapse Monday, triggering a series of earthquakes and pushing the lava into new underground chambers.
The collapse caused magma to push more than 10 miles downslope toward the populated southeast coastline of the island.
Copyright 2021 Associated Press. All rights reserved. This material may not be published, broadcast, rewritten or redistributed.
Topics Catastrophe Natural Disasters
Was this article valuable?
Here are more articles you may enjoy.