Sacramento, Calif.-based Warren G. Bender Co. has named Maggie Bender-Johnson president.
Bender-Johnson, formerly vice president of operations, has been a part of Warren G. Bender since 2005.
Her father, Stephen Bender, who formerly was president and CEO, will remain the company's CEO.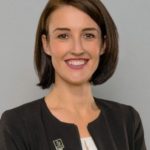 Warren G. Bende is an independent insurance brokerage that business and personal insurance products.
Topics California
Was this article valuable?
Here are more articles you may enjoy.