Raging waters from the Santa Fe River and arroyos have caused damage to Santa Fe, N.M. homes, city facilities and infrastructure following a heavy rainstorm.
More than 3 inches of rainfall were reported in some areas of northern Santa Fe county on Monday evening.
The storm also caused a power outage in some parts of the city.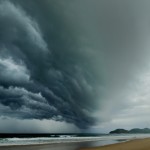 A Santa Fe County Sheriff's Office spokesman tells the Santa Fe New Mexican that despite flooded arroyos and roadways covered in debris, no serious accidents or injuries were reported as of 9 p.m. Monday.
City Manager Erik Litzenberg tells the Albuquerque Journal that there is a number of homes and infrastructure that will need to be stabilized and repaired.
The National Weather Service says more rain is likely throughout the week.
Copyright 2020 Associated Press. All rights reserved. This material may not be published, broadcast, rewritten or redistributed.
Was this article valuable?
Here are more articles you may enjoy.