A pair of wildfires tearing through vineyards and brushy hills threatened some 10,000 homes in Northern California on Tuesday.
The two fires straddling Mendocino and Lake counties had burned seven homes by Monday night along with some 107 square miles of rural land.
About 100 miles north, the Carr Fire that has burned more than 800 homes and killed six people has become the ninth most destructive wildfire in California history, said Scott McLean, a spokesman for the California Department of Forestry and Fire Protection.
In Lake County, evacuation orders were in effect for the 4,700-resident town of Lakeport along with some smaller communities and a section of Mendocino National Forest. In all, some 10,000 people have been warned to flee, fire officials said.
Lakeport, north of San Francisco, is the county seat and a popular destination for bass anglers and boaters on the shores of Clear Lake. But by Monday night it was a ghost town, the main streets deserted.
A few miles away embers, ash and smoke swirled through vineyards where at least one home had gone up in flames. Firefighters set blazes at the bottom of hills in order to burn up the tinder-dry brush before flames cresting the ridge tops could feed on it and surge downhill. A fleet of aircraft made continuous water and fire retardant drops on the blaze, filling the air with the roar of their engines.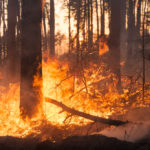 Farther north, police said five people were arrested on suspicion of entering areas evacuated due to the explosive wildfire around Redding.
The blaze, which killed two firefighters and four civilians including two children, has now destroyed 818 homes and 311 outbuildings and damaged 165 homes, McLean said.
More than 27,000 people remained evacuated from their homes although another 10,000 were allowed to return Monday as fire crews reinforced lines on the western end of Carr Fire.
Some 12,000 firefighters were battling the blaze. Fire officials were hopeful that they could make progress containing the blaze, which was 23 percent contained.
The fire's northwestern corner continued to be active.
Those fires were among 17 burning across the state, where fire crews were stretched to the limit.
Firefighters from 10 other U.S. states are helping to battle the blazes in California, with six more states expected to send firefighting resources to California this week
In Riverside County, east of Los Angeles, an arson fire that destroyed seven homes last week was 82 percent contained Monday.
Fire crews also have battled numerous small brushfires this summer, most charring only a few acres but still threatening homes in built-up areas along parched foothills. A 10-acre fire damaged 13 homes and apartments Monday in Santa Clarita, northwest of Los Angeles, county fire officials said.
Thanawala reported from San Francisco. Associated Press writers Lorin Eleni Gill and Olga Rodriguez also contributed to this report.
Copyright 2020 Associated Press. All rights reserved. This material may not be published, broadcast, rewritten or redistributed.
Was this article valuable?
Here are more articles you may enjoy.