Service was at the heart of Timothy J. Noonan's main message.
The Lockton Cos. president and CEO was talking about the service insurance professionals give to their clients and about the service the industry gives to communities.
"Lockton associates are making a difference," Noonan said on Thursday in front of hundreds of insurance professionals and representatives of local nonprofit organizations at the Insurance Industry Charitable Foundation Western Division's annual Horizon Award Gala in Los Angeles.
Lockton associates were honored with the IICF Western Division's 2019 Golden Horizon Award during the gala, which also included the announcement that $415,000 in community grants went to 53 local nonprofits throughout the Western states during the first quarter of the year.
Another $235,000 was raised by Thursday's gala through sponsorships, table sales, a live auction and individual donations, according to IICF.
The live auction solicited bids on items like a pair of Los Angeles Rams tickets that included a signed Eric Dickerson helmet, golf excursions at Hacienda Country Club and grounds passes to the U.S. Open in June, a Napa wine getaway and a theater night.
IICF presents its annual Golden Horizon Award each year during the gala to recognize an individual or organization within the insurance industry for dedication to philanthropy and the betterment of communities.
Recent past gala honorees include: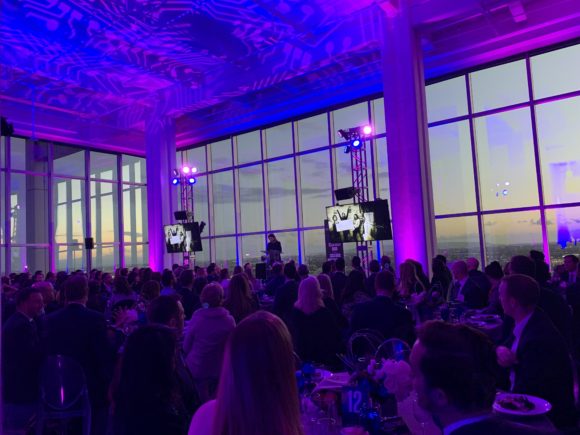 Lockton associates were honored for more than 50 years of giving back to communities. Associates with Lockton's Pacific Series reportedly contribute an avearge of 5,000 hours and nearly $1 million annually to improve communities. For its 50th anniversary, Lockton launched a campaingn to donate 50,000 hours of volunteer service to children's charities over the course of the year.
Noonan accepted an honorary IICF grant on behalf of International Medical Corps, an international relief and development charity he personally supports. IMC provides emergency relief, training and healthcare and supplies to children, families and communities impacted by natural disaster, war and conflict or disease.
Each year the IICF also features a nonprofit and gives a donation to that charity at the gala.
Jon Axel, managing partner of the Liberty Company Insurance Brokers, introduced the Children's Bureau as this year's featured nonprofit.
IICF has made children a focus of its charitable efforts, including partnering with Sesame Street on early literacy projects to bring books, reading and educational materials to underserved youth. The group in the past has used characters like Elmo and the Cooke Monster to promote the cause.
"There's nothing so special as having the children open these books and have the opportunity to meet the Cookie Monster," Axel said.
Greg Barnes, a trustee with Children's Bureau and a senior vice president and broker at Lockton, accepted the honor.
The Children's Bureau is one of the state's largest private nonprofit adoption agencies.
Barnes noted that the relationship between Children's Bureau and IICF dates back more than 20 years, during which the IICF has contributed nearly 1,000 volunteer hours, thousands of books and in excess of $80,000 in financial support to the charity.
It was the Children's Bureau that hosted the West coast kick off for the popular IICF Sesame Workshop Early Literacy Initiative.
"This focus of collaborating is based on the notion that nothing happens in isolation," he said. "A child's lifelong health and success is intertwined with their early childhood experiences and relationship with their parents. In order to change the life path of at-risk children, we must include in our approach the families raising these children, the communities in which these children live, and the nonprofit systems that are woven through their lives."
IICF founders Bruce Basso and Jim Woods were also recognized at the dinner.
The presenting sponsor of the gala was Lockton Insurance Brokers LLC. The Gold Sponsors were Farmers Insurance, Michelman & Robinson, Swiss Re, The Liberty Company Insurance Brokers, TOPA Insurance Group, Worldwide Facilities.
Established in 1994, IICF has served as the philanthropic foundation of the insurance industry and reports contributing $31 million in community grants along with 300,000 volunteer hours by more than 110,000 industry professionals.
Related:
Was this article valuable?
Here are more articles you may enjoy.