Crest Insurance Group LLC of Scottsdale, Ariz., has added Taylor Bouve as a commercial broker.
Bouve has more than six years of experience in insurance.
He was previously an account executive at Sunbelt Insurance Holdings LLC, and was with Zenefits before that.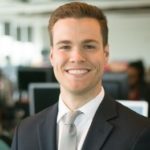 Crest has offices in throughout Arizona as well as in California and Colorado. The brokerage firm writes insurance business throughout the Southwest and continental U.S.
Was this article valuable?
Here are more articles you may enjoy.