California Insurance Commissioner Ricardo Lara called for property insurers in the state to step up and do more to help residents and businesses deal with wildfires.
Lara on Thursday gave an update on the actions and communities in the state are taking to prepare Californians during a media briefing. Lara was joined during the conference by California homeowners and first responders during Wildfire Awareness Month.
Lara noted that California Gov. Gavin Newsom's drought declaration is now extended to 41 counties, covering 31% of the state's populous, putting the state in the crosshairs of what could be a potentially severe wildfire season.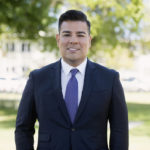 "This year, we have the conditions for, unfortunately, another difficult fire season," Lara said.
The briefing centered on what communities are doing to assist homeowners and businesses to take steps to harden their homes and neighborhoods against wildfires.
Lara also called for more insurance companies to incentivize wildfire mitigation. He said eight insurers and the California FAIR Plan offer discounts to harden homes and take mitigation steps to reduce wildfire risks, which only represents 13% of the overall state market.
"So, there's a lot more room to grow," he said.
The California Department of Insurance reports the insurers offering premium discounts are: California Automobile Insurance Co., USAA Group, Falls Lake Fire and Casualty Co., American Modern Home Insurance Co., ASI Select Insurance Corpo., The Cincinnati Insurance Co., Wawanesa General Insurance Co. and Occidental Fire & Casualty Company of North Carolina.
A representative of the American Property Casualty Insurers Association, the largest trade group representing property/casualty insurers, responded that insurers support calls for mitigation.
"Insurers are working with scientists and modelers to further the science of understanding how to better mitigate wildfire risk and understanding the value of various mitigation programs and efforts," Mark Sektnan, vice president of APCIA, said in a statement. "While we cannot stop wildfires, we are learning how to mitigate the risks and are moving towards understanding and quantifying the value of individual and community mitigation. Insurers encourage homeowners, renters and businesses to get their property and finances ready for wildfires as we are facing another dry hot summer."
Newsom expedited $536 million for wildfire preparation through Senate Bill 85 in April, including $25 million in funds to assist home-hardening projects.
Lara announced a wildfire mitigation partnership with Newsom's administration in February that will establish home- and community-hardening measures for retrofits of older existing homes in order to help them seek and maintain insurance coverage.
"I want to have these mitigation measures in place this year," Lara said.
Lara said the CDI has noticed an increase in non-renewals affecting businesses, and last month he ordered commercial insurers to give him more data on this going back to 2017 to gauge impact of four successive fire seasons.
"We need to bring down the risk in communities," Lara said. "My goal as insurance commissioner is to make sure you get the discounts and incentivize your neighbors to do the right thing."
Related:
Topics Carriers California Catastrophe Natural Disasters Wildfire
Was this article valuable?
Here are more articles you may enjoy.