When her husband Tim died, JoAnn Osmond inherited the family agency … and a career in Illinois Politics.
Near the edge of the Illinois-Wisconsin border, closer to Milwaukee than Chicago, in a little town called Antioch, Ill., at the corner of Hillside Avenue and Route 173, stands an unassuming little house with gray siding. If you're not paying attention, you'll drive right past it. I did, while on my way to meet JoAnn Osmond, a similarly unassuming woman with a remarkable story.
A sign at the top of the building reads: "Osmond Insurance Services Ltd." It's the independent insurance agency that produces about $5.5 million in annual premium volume Osmond inherited when her husband, Tim, died of a heart attack Dec. 17, 2002. As if the challenge of inheriting an agency opened by Tim's father in 1954 wasn't enough, JoAnn was the beneficiary of an unexpected inheritance: public office.
Another sign, a little one at the corner of the building and closest to the highway reads: "JoAnn D. Osmond, State Representative, 61st District of Illinois." Any local will tell you the Osmonds are big in Antioch (pronounced "Annie-ahk" by those in the know). Osmond's office is just a block away from Osmond Avenue, which is not a coincidence. Tim's grandfather was one of the founders of the town, Osmond explained, and divided up the land between his sons and daughters.
The insurance company has to have lesser premiums for doctors with no claims. Why should an OB pay the price for someone else's mistakes? – JoAnn Osmond
Tim wasn't just "a great salesman, a real people person," as Osmond described him, but also a leading legislator on insurance issues, especially credit scoring. He is universally credited as the catalyst behind the National Conference of Insurance Legislators' model act on credit-based insurance scoring, which has been adopted in some form by 26 states.
"He watched a whole book of business he had in our agency for 20 years all of a sudden be canceled because of credit score," Osmond said. "He went on a crusade to figure out how insurers were using credit scoring and how it affects a small business agency such as ours."
The culprit, Safeco, had a relationship with the agency for more than 20 years, during which time Tim had worked to cross-sell his customers on auto, home and life insurance.
"All of a sudden," Osmond said, "our customers were getting cut off not just for credit they'd used but just credit available to them and when they had no insurance losses at all. It was unfair to the individual and to the agency."
While consumer groups have criticized the NCOIL model as insurer-friendly, nothing short of a ban would have satisfied most of their concerns. The NCOIL model does prohibit insurers from canceling or raising someone's rates based solely on their credit score, forces insurers to discount medical bills from the equation and disallows using a lack of any credit history as a factor in rating or underwriting.
Tim did not live to see the model passed in Illinois, however. After a long history of heart trouble including an angioplasty in 1999 and bypass surgery in 1993, he died before the issue he had put so much time and effort into could see the floor of the state's General Assembly. Suddenly, Osmond was left without her husband of 22 years and a decision to make about what to do with the agency.
Tim, a Republican, had just been re-elected to a third term the preceding November, and within hours of his death, Osmond was asked to fill his seat in the General Assembly. Aside from the power of the Osmond name in Antioch, JoAnn also boasted a decades-long resume as a legislative aide and activist in Lake County Republican politics. After discussions with her two adult children and the agency's chief operating officer, Dan Baright, Osmond decided to keep both the agency and the political office as Osmond properties.
"When it happened," Osmond recalled, "so many things were going fast and furious. In politics, people don't wait for you to make a decision. You have one opportunity, and it's either 'Yes' or 'No.' The children were very instrumental in me making a decision. My main concern was the agency."
A helping hand
On that front Osmond was fortunate. Two years prior, Tim had hired Baright to help run the agency on a day-to-day basis while he was in Springfield much of the year taking care of his political duties. Though Osmond had done some bookkeeping for the agency and has been a licensed auto, life and commercial insurance producer since 1984, she's the first to tell you that she's not much of a saleswoman.
"After Tim died a few days had gone by," Baright recalled. "JoAnn called me in and said, 'What are your intentions? What would you like to do? I'd like you to stay and run the agency, because otherwise I'd probably have to sell it.'
"That was great with me," Baright said, "because that's exactly what I wanted to do. We worked that out right away. I didn't know for sure what JoAnn was going to do, and neither was she. We all miss Tim and miss him very much, but she needed me and I wanted to stay here."
Ten days after Tim's death, Osmond sent out a letter to the agency's 3,800 policyholders telling them, "We're OK. The agency's OK. We just need time to reorganize." Not one policyholder left as a result, she added.
The focus of the business has shifted more toward commercial insurance and surety bonds as those are Baright's areas of expertise, with 40 percent of the book being personal lines, 50 percent commercial, and 10 percent group life, health and affiliated lines.
"Basically, [Osmond's role] is supervisory," Baright explained. "I report the results to her. She doesn't have time to get involved in day-to-day basis. Like Tim, she is involved in major decisions about the agency and has veto power, though she's been really very supportive of everything I've wanted to do."
The other legacy
With the agency in good hands, Osmond moved onto securing her husband's other legacy: his legislative priorities. Osmond, who sits on the House Insurance Committee, proposed the NCOIL credit scoring model as House Bill 1640 and it had garnered more co-sponsors than votes needed to pass before it was even put up for a vote. The bill was signed into law by Gov. Rod Blagojevich, a Democrat, in 2003.
Osmond, while pleased with the law as written, said enforcement has fallen short.
"There should be another look at it," she said, recounting the story of a man in her district who has had medical bills mount during the settlement of a workers' compensation claim. The bills have gone against his credit score and he has seen his personal insurance rates rise as a result, Osmond said.
"We need to make sure companies comply with how the law was written. We still have problems with property/casualty companies using it as the sole basis. In this case, I felt very strongly that that they had nothing else to go on. There was no claim loss history to go on. The courts will ultimately decide what 'sole basis' means but I think the director of insurance needs to look at it and take action, not just slap them on the hand, but get tighter on it."
Like many states, Illinois' insurance department has faced budget constraints which have limited its ability to effectively regulate insurance, according to Osmond. The department was folded into a new super-department called the Department of Financial and Professional Regulation.
"The governor has chosen to restructure insurance into a bunch of other departments," Osmond said. "There have been a lot of administrative changes and a lot of people involved in insurance regulation have left. There's no institutional memory to help the new people coming in and not knowing the system. Even the new director of insurance [Michael T. McCraith] ]said his background was as a defense attorney for insurance companies. He's going to have some learning curves."
Osmond had some curves of her own to learn, according to Phil Lackman, a lobbyist for the Professional Independent Insurance Agents of Illinois and a friend of the family.
"She's sought out advice and counsel from me more on process," Lackman said. "I would characterize JoAnn as pretty expert on local politics and government, but I think she would admit she was not as familiar with the workings of state government beyond what she got through osmosis from Tim. But she has caught up with some guidance, but she didn't need much."
Lackman said Osmond has made her mark in other areas such as school funding and become an "effective legislator." One pressing issue she is trying to make her mark on is the availability of obstetric care to women in Illinois. As a result of huge malpractice jury awards against obstetricians in Illinois, rates rose dramatically as they have in many other parts of the country.
Osmond and Rep. Ruth Munson (R-Elgin, 43rd District) brought together a group of obstetricians nearly a year ago and heard "horrible stories about their insurance premiums doubling and tripling," Osmond said.
"One of the things Ruth and I found was that many never had a claim against them. They went from $35,000 a year to $100,000 a year in premium the next." Those who can have moved their offices to neighboring states where annual premiums are about $30,000, Osmond said.
While malpractice tort reform has stalled in Illinois thanks to the trial bar's influence on a Democratic-controlled Springfield, Osmond and Munson formed the bipartisan Save Our OBs coalition (www.saveourobs.com) in an attempt to publicize the issue.
"We thought, 'Let's make this more obvious. Let's bring the actual cases to talk about.' Now people can go on the Internet to see what happened to their doctor." The site invites testimonials from OBs and their patients on the availability and affordability crisis skyrocketing malpractice premiums have caused.
"I believe that if women know and understand that it's their health care that's being jeopardized and the health care of their babies," Munson told IJ, "they will look at legislative change and begin to look at whom they elect based on this issue."
Osmond believes, though, that while caps on noneconomic damages are a crucial component to reform, insurers also ought to be on the hook.
"There are so many different elements to this," she said. "As a member of the Judiciary Committee I believe very strongly that some type of cap has to be instituted for lawyers. I feel very strongly that doctors have to discipline their own. And the insurance company has to have lesser premiums for doctors with no claims. Why should an OB pay the price for other people's mistakes? If you have no claims, you should not be punished."
Taking care of business
Munson, also Osmond's roommate in Springfield, lauds her commitment to public service. "JoAnn really studies the issues," Munson said. "She spends a lot of time understanding legislation; how it impacts her district and the entire state of Illinois. I don't know anyone who works any harder than she does."
Lackman, too, noted her work ethic.
"She certainly has her hands full with being a state legislator, small business owner, chairperson of Lake County, a mother and grandmother," he said. "That just about says it all. That's about as involved as one can get."
As for the agency, Osmond said her only perpetuation plans as of now are "to keep it intact." Not that it's an immediate concern, even as she nears 60.
"I used to think that retirement would be great, but then what would I do?"
Was this article valuable?
Here are more articles you may enjoy.
From This Issue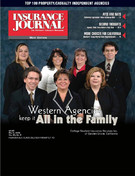 Top 100 Agencies