The Associated Press reported that the Louisiana Board of Pardons recently decided it won't consider requests for state pardons of federal convictions even though in the past many of the state's governors have granted such pardons. The board makes pardon recommendations to the governor.
The board's decision affects two high profile convictions in insurance-related cases. The new policy lets Gov. Kathleen Blanco off the hook from making pardon decisions about former Insurance Commissioner Jim Brown and David Disiere, the owner of a failed insurance company.
Brown was convicted in 2000 for lying to an FBI agent in an insurance case and Disiere, whose company was involved in Brown's trial, pleaded guilty to a federal charge of failing to report a felony. According to the AP, Brown, who served a six-month sentence for his conviction, maintains his innocence and wants the state's pardon as a "point of honor." Disiere apparently wants restoration of his state civil rights in order to get his insurance license back.
After researching the law and Louisiana's Constitution the new pardon board, appointed when Blanco took office in 2004, determined the governor has no authority to pardon people for federal crimes, only the U.S. president can do that. The board can recommend limited restoration of civil rights.
It will be interesting to see if Brown and Disiere continue to seek pardons for their federal convictions, along with restoration of their state civil rights, and if so, what avenues they choose to pursue in that quest.
On the Insurance Journal front, we're sad to say that staff writer Dawn Love has left Wells Publishing to pursue a graduate degree in Utah. She will be missed, but we wish her the best of luck!
We also have a couple of other staffing changes here at IJ: Midwest Managing Editor Kevin O'Reilly has also left to pursue other interests, as has Production Coordinator Karla Boedeker. While we are again sad to see them go, we know that they will thrive in this next stage of their lives, wherever that may be!
Joining the IJ team as our new Midwest managing editor is Laura M. Toops; our new production coordinator is Erin L. Jay.
Laura is no stranger to the insurance world; she previously worked as senior public affairs specialist for the Property Casualty Insurers Association of America in Chicago. Erin also joins us from Chicago, although she will be relocating to the San Diego headquarters. She previously worked with media marketing firm Kelly, Scott & Madison in Chicago.
Laura and Erin, we welcome you both to the IJ family!
From This Issue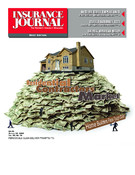 Contractors Issue