Lockton, Schwander Insurance Services
The Denver office of Lockton Companies LLC, a privately held insurance broker, acquired Schwander Insurance Services of Centennial, Colo.
Schwander CEO and President Michael Schwander will become executive vice president at Lockton Denver. He and his team specialize in executive risk management, including directors' and officers' liability, fiduciary liability, and employment practices liability.
Also joining Lockton are Kenneth P. Capone, who was appointed senior vice president and financial services department manager, and Ana M. Holdren, who is assistant vice president at Lockton. Angela Hamilton, Bonnie Reps and Breanna Sheldon will also join as associates.
Schwander has 28 years of experience in the insurance brokerage business, most of them in senior management positions at Aon Corp. His professional background includes traditional transactions, initial public offerings, bankruptcies, funding mechanisms, multiyear structures, mergers/acquisitions and evergreen clauses. Schwander is considered an expert in complex directors' and officers' liability claims.
Lockton employs 250 people in its Denver office.
Cherry Creek Insurance, Gaspar Jones Merge
Colorado-based Cherry Creek Insurance and Gaspar Jones merged operations. The combined staff of 55 insurance professionals will service more than 8,000 clients from Cherry Creek Insurance's corporate offices in Greenwood Village.
Since 1986, Cherry Creek Insurance has delivered commercial and personal insurance solutions for companies including law firms, dental operations, professional groups, hotels, franchise businesses, educational institutions, media companies, restaurants and manufacturers.
"The joining of these two historic companies allows us to deliver a broader range of services to our existing customers and expand our client base into other niche areas," said Brook Mahoney, founder and CEO of Cherry Creek.
Mahoney and Carl Gaspar, GJ&A president, are past presidents of the Professional Independent Insurance Agents and Brokers of Colorado. Gaspar is also the national chairman of the board of ACORD.
Cherry Creek was founded in 1986 and is the fourth largest Colorado based, independent agency with sales exceeding $50 million. Established in 1971, Gaspar-Jones is one of the largest independent insurance agencies in Colorado.
RMS, Resilient Coasts Initiative
Newark, Calif.-based Risk Management Solutions (RMS) is a partner in the Resilient Coasts Initiative, a collaboration led by Ceres and the Heinz Center. RMS will contribute technical expertise on climate-driven catastrophe risk and adaptation modeling.
The Resilient Coasts Initiative is a collaboration between private and public sector groups to address the need for climate adaptation in the coastal regions of the United States. The goal of the initiative is to develop public policy and private market solutions to help protect coastal communities from rising sea levels and other potentially damaging consequences of climate change.
"It is vital that coastal communities continue to be protected in the face of rising hazard. The Resilient Coasts Initiative will focus key players in government, insurance, finance and the building industry on creating a blueprint for action supported at the highest level within these sectors," commented Dr. Celine Herweijer, director of the RMS Climate Change Practice.
She added, "Coastal communities and habitats face critical risks from climate change, including more extreme storms, sea-level rise, erosion, and flooding. Compounded by rapid population growth, trillions of dollars in coastal real estate assets from Texas to Maine, and more than half of the U.S. population living along the coastline, the scale of these risks demands forward-thinking strategies and policies from the private and public sectors to reduce climate change impacts along the coasts.";
During the next 12 months, the Resilient Coasts Initiative will work to identify policy and market-based solutions that may include initiatives to: limit new development in the most vulnerable areas; strengthen and upgrade existing buildings to prevent further losses; and promote infrastructure investments that will help communities adapt to sea level rise.
Hub International
More than 200 employees from Hub International Ltd., an international insurance brokerage, recently built bicycles for children from the Dolores Gonzales Elementary School in the Albuquerque, N.M., area. Each child received a brand new bicycle, a safety helmet and a new bike lock. For most of the children, it was their first bicycle.
The bicycle building event was a combination team building and charitable exercise for Hub employees. According to the company, balance is one of its corporate values, and it wanted to remind employees that giving back to the community is an important part of who they are as individuals and as an organization. The experience emphasized the importance of communication, time management and problem-solving, while providing something meaningful to the children of the community the company serves, Hub said.
Hub purchased Talbot Agency Insurance Services in 2004. The insurance broker has 102 employees in Albuquerque, Santa Fe and the surrounding areas. Hub with Talbot has been a member of the New Mexico community for more than 50 years and has a history of supporting worthy causes in the area.
Dolores Gonzales Elementary School is a model dual language (Spanish/English) school located in the Barelas community, one of the oldest communities in Albuquerque. The school implements a school-wide Title 1 program, as well as a bilingual/dual language program. The school has a strong family component in which parents have the opportunity to enroll in English, Spanish and general parenting classes.
From This Issue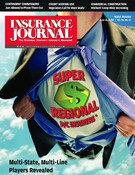 Salute to Super Regionals; Construction; Corporate Profiles