National
Brightway Insurance
Brightway Insurance, a national property/casualty insurance retailer selling through a network of franchised independent agencies, launched its new Independent Agent Program with its first group of new owners. The new program was unveiled in January. The following agents have since launched their agencies nationwide:
Gary Weintraub, Brightway, The Gary Weintraub Agency in Pooler, Ga.
Andrew Gutierrez, Brightway, The Andrew Gutierrez Agency in Topeka, Kan.
Sandeep Rao, Brightway, The Rao Agency in Wilmington, N.C.
Aquarius Johnson, Brightway, The Aquarius Johnson Agency in Humble, Texas
Austin Vannoy, Brightway, The Vannoy Agency in Valdosta, Ga.
Jeremy Hill, Brightway, The Jeremy Hill Agency in New Orleans
Maria Puente, Brightway, The Maria Puente Agency in Tucson, Ariz.
Brightway Insurance writes more than $572 million in annualized written premium.
East
Amity Insurance Agency, New Hampshire Bar Association
Amity Insurance Agency Inc., a Quincy, Mass.-based agency, has formed a strategic alliance with the New Hampshire Bar Association.
Under the terms of the alliance, Amity has purchased the insurance agency business from the New Hampshire Bar Association and will now be the association's endorsed insurance agency.
Previously, the New Hampshire Bar Association maintained its own agency as an option for professional liability (malpractice) insurance for its 7,000 members.
Amity will extend the offer to provide professional liability to all of the New Hampshire Bar Association's members, which is one of Amity's core offerings.
Additionally, Amity will open an office within the New Hampshire Bar Center in Concord, N.H.
The firm will also add a new employee to its ranks, Sue Morand, who formerly was employed by the New Hampshire Bar Association.
For New Hampshire Bar Association members, existing policies and coverages will continue in full force.
Ryan Specialty Group, Boston Insurance Specialists
Ryan Specialty Group LLC has agreed to acquire the assets and operations of Boston Insurance Specialists Inc., an independently owned wholesale insurance brokerage with offices in Mansfield and Westfield, Mass.
Following the acquisition, BIS' team will become part of R-T Specialty LLC, the wholesale brokerage unit of Ryan Specialty Group.
BIS' specialty product includes property/casualty, professional liability and personal lines.
Ensurise, Reese, Yeatman & Associates
Independent insurance agency Ensurise LLC has merged with the property/casualty insurance brokerage operations of Reese, Yeatman & Associates Inc.
Following the merger, Reese Yeatman will continue to operate as Reese Yeatman Insurance from its downtown Bethesda, Md., location.
Reese Yeatman is in its second generation of leadership under Michael Reese Jr., Thomas Riley and a staff providing commercial and personal lines of property/casualty insurance.
Ensurise is an independent insurance brokerage organization that partners with insurance agencies in the Washington, D.C., metro area.
USI Insurance Services, GFI Insurance Brokerage
USI Insurance Services, a provider of insurance brokerage and risk management, has acquired New York-based GFI Insurance Brokerage Inc.
GFI provides commercial property/casualty, employee benefit and personal risk products to clients in the Northeast region.
Headquartered in Valhalla, N.Y., USI delivers property/casualty, employee benefits, personal risk and retirement products.
Relation Insurance Services, J. Deutsch Associates Inc.
Relation Insurance Services has agreed to acquire J. Deutsch Associates Inc., a New York City-based, privately owned and operated insurance agency.
The acquisition deal is expected to bring together complementary portfolios and deepen Relation's Education Solutions student health insurance offerings. Additionally, the acquisition expands Relation's footprint in the Northeast.
J. Deutsch Associates provides insurance to international students and scholars in the U.S.
Relation Insurance Services is an insurance brokerage that offers risk management benefits and third-party administrator consulting services through its family of brands across the U.S.
Midwest
CFM Insurance, Cornerstone National Insurance
CFM Insurance Inc., a mutual insurance company headquartered in Concordia, Mo., has finalized its acquisition of Cornerstone National Insurance Co., a stock company based in Columbia, Mo.
The group will maintain two separate companies, all owned by the mutual company policyholders.
The new direction of CNI will yield the introduction of packaged business in the territories where it currently writes coverage.
CFM has roughly 26,000 policies with annual written premium of more than
$30 million.
Cornerstone ended 2018 with more than $23 million in written premium and 17,500 policies.
South Central
Arthur J. Gallagher, First Iowa Insurance Agency
Arthur J. Gallagher & Co. has acquired Cedar Rapids, Iowa-based Hammerberg Insurance Services Inc., doing buiness as First Iowa Insurance Agency Inc.
Ronald Hammerberg, Robert Hammerberg and their associates will continue to operate from their current location under the direction of Patrick M. Gallagher, head of Gallagher's Midwest region retail property/casualty brokerage operations, and Jerry Roberts, head of Gallagher's Heartland region employee benefits consulting and brokerage operations.
First Iowa offers commercial and personal property/casualty insurance, group and individual health, and individual life coverage and services throughout Iowa and the central U.S.
Arthur J. Gallagher is an insurance brokerage, risk management and consulting services firm based in Rolling Meadows, Ill.
McGowan Companies, Edgewater Holdings
The McGowan Companies, headquartered in Fairview Park, Ohio, has purchased certain assets of the Chicago-based program administrator, Edgewater Holdings Ltd.
Edgewater will be re-branded under the McGowan Program Administrators brand and will function as a division of McGowan & Company Inc.
The Edgewater staff will remain in place, led by former Edgewater President and CEO Mark Kollar. Edgewater brokers will receive automatic appointments with McGowan.
Edgewater specializes in working with insurance brokers to develop private label directors and officers, errors and omissions, employment practices liability insurance, cyber and workers' compensation programs.
Hub International, Peak Financial Group
Hub International Ltd., an insurance brokerage headquartered in Chicago, has acquired the assets of Peak Financial Group LLC in Houston.
Janine Moore and Darrell Ellisor of Peak Financial Group will join Hub Texas as senior vice presidents.
Peak Financial Group is an independent firm specializing in retirement plan services, providing retirement plan design assistance and comprehensive employee education programs to businesses.
Southeast
SPG, Insurance Programs of America, Risk Advisors of America
Specialty Program Group LLC, an operator of specialty insurance brokerages and underwriting facilities, has acquired the assets of Insurance Programs of America, Inc., a managing general underwriter, and Risk Advisors of America LLC, a retail insurance agency.
The leadership of Insurance Programs of America and Risk Advisors of America will continue to run the operation.
Orlando, Fla.-based, IPOA and RAA are a hospitality focused insurance distribution platform. The newly acquired team will launch Specialty Program Group LLC's hospitality platform.
Headquartered in Summit, N.J., SPG focuses on expanding program underwriting and specialty businesses.
TriSure Corporation, Alera Group Inc.
TriSure Corp. has been acquired by Alera Group, a national insurance firm.
Alera Group offers employee benefits, property/casualty insurance, risk management and wealth management.
All TriSure employees will continue operating out of the firm's existing location in Raleigh, N.C., under the name TriSure Corporation, an Alera Group Company LLC.
TriSure is a risk management firm specializing in commercial property/casualty insurance.
Alera Group, based in Deerfield, Ill., is an independent insurance agency.
West
Hub, Ritehealth Solutions
Hub International Ltd. has acquired the assets of Lafayette, Colo.-based RiteHealth Solutions Inc.
RiteHealth owner Rachel Zeman will join Hub Colorado as a senior employee benefits consultant.
RiteHealth is an employment benefits brokerage firm.
Chicago-based Hub is an insurance broker providing property/casualty, life and health, employee benefits, investment and risk management products and services.
Hanson Insurance, KMI Insurance
Hanson Insurance Group of Corvallis, Ore., has acquired KMI Insurance LLC of McMinnville, Ore.
KMI will be merging into the Hanson Insurance Group name. Kelly McDonald of KMI Insurance will continue to serve as an advisor to his clients.
KMI Insurance is an independent agency with specialization in agriculture, manufacturing, logging and real estate.
Hanson is based in Corvallis and provides service in 37 states.
Was this article valuable?
Here are more articles you may enjoy.
From This Issue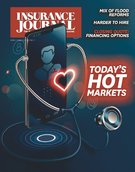 HOT Markets; Agency Management & Financing