National
Bold Penguin, xagent
Bold Penguin, a commercial insurance exchange technology platform launched in 2016, announced it has acquired xagent, an independent, single-entry, multi-quote platform for the standard and surplus lines business insurance market.
The company said the xagent technology for agents will be integrated with Bold Penguin's Exchange, which connects businesses, agents and carriers and allows for the quoting and binding of commercial insurance to happen in hours or minutes versus the traditional methods, which sometimes take weeks.
A Bold Penguin spokesperson said the company would keep xagent's eight employees and add them to its staff of 137. Xagent's Reston, Va., office will stay open, but now as part of Bold Penguin's broader operations in Columbus, Ohio.
---
East
Verisk, FAST
Verisk, a Jersey City, N.J.-headquartered data analytics provider, has signed a definitive agreement to acquire FAST, a privately held software company for the life insurance and annuity industry based in Iselin, N.J.
FAST offers a flexible policy administration system that helps insurers accelerate underwriting and claims to enhance the customer experience and support profitable growth.
FAST, which stands for Flexible Architecture, Simplified Technology, provides a SaaS suite of components that life insurers can use to enhance or replace their legacy policy administration systems. FAST software, which is used by a range of life insurers, also provides a channel for Verisk to deliver its analytics to support underwriting.
The acquisition of FAST will extend Verisk's offerings to the life insurance market, said Verisk Chief Operating Officer Mark Anquillare in a company press release. As part of Verisk, FAST will be able to enhance its software, expand its reach and provide analytics to meet the changing needs of life insurers and customers, added FAST CEO Tom Famularo in the release.
The purchase price is $193.5 million. The transaction is subject to the completion of customary closing conditions.
World Insurance Associates, J & S Risk Planning Group
World Insurance Associates LLC acquired J & S Risk Planning Group LLC of Wantagh, N.Y., on November 1, 2019.
Founded in 2009, J & S Risk Planning Group LLC provides insurance services for the New York and New Jersey metropolitan areas. It offers a variety of insurance products for commercial, personal, group benefits, health and financial clients.
World Insurance Associates LLC is headquartered in Tinton Falls, N.J., and is a full-service insurance brokerage providing asset and lifestyle protection with risk management, insurance and benefit consulting services for individuals and businesses. Since its founding in 2012, WIA has completed 50 acquisitions and serves its customers from 34 offices in 10 states.
Risk Strategies, Gowrie Holdings
Risk Strategies, a privately held national insurance brokerage and risk management firm, has acquired the two subsidiaries of Gowrie Holdings Inc.
The acquisitions include both Gowrie Group, a full-service national specialty retail insurance brokerage with an established leadership reputation for niche insurance programs, as well as Maritime Program Group, a marine-focused managing general agent. Together, Gowrie and MPG are the largest recreational marine insurance specialists in the U.S.
Founded by Carter Gowrie in 1974, Gowrie today has more than 80 employees and five offices in the Northeast. The MPG division has more than 60 employees deployed across six offices in the Eastern U.S.
In 2016, Risk Strategies acquired Ft. Lauderdale-based marine insurance specialist, Atlass Insurance, and its wholesale group, Atlass Special Risk. As with that acquisition, the purchase of Gowrie Group will add to the capabilities of Risk Strategies' national private client practice, while MPG will bring scale and specialty capabilities as the firm builds up the offerings of its wholesale and program underwriting operations, One80 Intermediaries.
Gowrie Group's retail insurance brokerage offers customized protections, including several exclusive product and program offerings for marine risks and sailing organizations. This specialized approach is carried over to other offerings for equine risks, non-profits and public safety organizations. Gowrie also offers customized placements for high net worth families and individuals. Gowrie Group also has a specialty employee benefits practice, within which it often supports the particular needs of its marine-focused and private client practices.
Maritime Program Group offers a complete suite of recreational, inland and commercial ocean marine solutions, as well as private client personal lines to a network of more than 2,000 brokers across the U.S. MPG has a full complement of in-house underwriting programs with domestic carriers, as well as through Lloyds of London as an appointed coverholder.
---
Midwest
Hub International, Briargate Insurance, Cranbrook Bloomfield Insurance
Hub International Limited, based in Chicago, has acquired the assets of Briargate Insurance Services Inc.
Based in Chicago Heights, Ill., Briargate Insurance is an independent agency providing employee benefits, personal and commercial insurance, including life insurance, home, property, group health, and more. Mike Ziegler, owner of Briargate Insurance, will join Hub Midwest.
In a separate deal, Hub also acquired the assets of Cranbrook Bloomfield Insurance Agency (CBIA) LLC in Bloomfield Hills, Mich.
CBIA is an independent insurance brokerage providing personal and commercial insurance and employee benefits solutions to individuals and businesses. Agency principals John Williamson and Mark Barrett will join Hub Midwest East.
Hub International Limited provides property and casualty, life and health, employee benefits, investment and risk management products and services.
---
South Central
Alera Group, AMCORP
Alera Group, a national employee benefits, property/casualty, retirement services and wealth management firm, has acquired AMCORP, a benefits consulting and financial planning firm located in San Antonio, Texas.
Founded in 1981 and led by Vince Zinsmeyer and Craig Zinsmeyer, AMCORP provides benefits consulting and financial planning services to clients throughout the Southwest, using results-oriented strategic planning to help clients succeed.
All AMCORP employees will continue operating out of the firm's existing location under the name AMCORP, an Alera Group Company LLC. Terms of the transaction were not disclosed.
Alera Group was formed in early 2017 and is based in Deerfield, Illinois.
Risk Strategies, Academic HealthPlans
National insurance brokerage and risk management firm, Risk Strategies, has acquired Academic HealthPlans Inc., a Grapevine, Texas-based provider of health insurance plans that colleges and universities make available to their students.
Terms of the deal were not made public.
Building on its 2017 purchase of University Health Plans, Risk Strategies' acquisition of AHP establishes the firm as the nation's largest broker of student health insurance plans and related administrative services.
Founded in 1998, AHP counts over 150 colleges and universities nationally as clients.
Risk Strategies has offices in more than 70 locations nationwide.
---
Southeast
AssuredPartners, Star and Shield Insurance Services
AssuredPartners, Inc. has acquired Star & Shield Insurance Services located in Tallahassee, Fla. The team of 11 will remain under the operational leadership of Frank Russo and Allyson Olver. The agency currently reports $2 million in annualized revenues. Star & Shield Insurance Services offers an array of insurance options to first responders, their families, friends and neighbors.
AssuredPartners President and COO Tom Riley said the move is part of the firm's plans to increase its presence in the Florida marketplace.
Headquartered in Lake Mary, Fla., AssuredPartners, Inc. acquires and invests in insurance brokerage businesses.
Was this article valuable?
Here are more articles you may enjoy.
From This Issue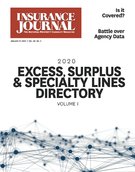 Excess, Surplus & Specialty Markets Directory, Volume I