East
The Hilb Group, Kerr-Boswell, Wickford Insurance Agency
The Hilb Group LLC has acquired Virginia-based Kerr-Boswell Inc.
For more than 60 years, KB has provided employee benefits, property/casualty, life, health and financial services to businesses and individuals throughout the Tri-Cities and Mid-Atlantic region. KB associates will continue to operate out of its existing Bristol, Va., location under the management of THG's Abingdon, Va., operations following the acquisition.
In a separate transaction, THG has acquired Rhode Island-based Wickford Insurance Agency Inc.
WIA is a full-service property/casualty insurance agency for businesses and individuals throughout Rhode Island. WIA's associates will join THG's Rhode Island operations under the management of WIA Agency Leaders Chris Schneider and Derek Schneider.
THG is a middle market insurance agency headquartered in Richmond, Va., and is a portfolio company of global investment firm, The Carlyle Group. THG seeks to grow through targeted acquisitions in the middle market insurance brokerage space. The company now has more than 90 offices in 21 states.
The Northern United Agents Alliance, The Davis Agency
The Northern United Agents Alliance has announced that The Davis Agency joined the NUAA as a participating member.
The Davis Agency, located in Concord, N.H., is a full-service agency founded in 2019 by Andy Davis.
The team of agents at The Davis Agency has been providing customer service and insurance to individuals and businesses for more than 25 years.
Headquartered in Concord, N.H., the Northern United Agents Alliance is an alliance of independent insurance agents in New Hampshire, Massachusetts and Vermont dedicated to providing client service through the group's relationships with its insurance carrier partners.
The NUAA partnership was formed in 2011 by four independent insurance agencies and has grown to include 35 agencies.
Arthur J. Gallagher & Co., Walsdorf Agency
Arthur J. Gallagher & Co. has acquired Huntington, N.Y.-based Walsdorf Agency Inc.
Founded in 1926, Walsdorf Agency is a third generation, family owned commercial and personal lines insurance agency with real estate niche expertise.
David L. Walsdorf, Louis J. Walsdorf and their associates will be relocating to Gallagher's Jericho, N.Y., office under the direction of Patrick Kennedy, head of Gallagher's Northeast region retail property and casualty brokerage operations.
Arthur J. Gallagher & Co., a global insurance brokerage, risk management and consulting services firm, is headquartered in Rolling Meadows, Ill.
The company has operations in 48 countries and offers client service capabilities in more than 150 countries around the world through a network of correspondent brokers and consultants.
Midwest
AssuredPartners, Corkill Insurance Agency
AssuredPartners Inc. has acquired Corkill Insurance Agency Inc. of Elk Grove Village, Illinois.
The Corkill staff of 104 will remain under the operational leadership of Luke Praxmarer and Paul Praxmarer.
The agency currently reports $23 million in annualized revenues.
Headquartered in Lake Mary, Florida and led by Jim Henderson and Tom Riley, AssuredPartners Inc. acquires and invests in insurance brokerage businesses (property and casualty, employee benefits, surety and MGU's) across the United States and in London.
AssuredPartners, Lundstrom Insurance Agency
AssuredPartners Inc. has acquired Lundstrom Insurance Agency Inc. located in Elgin, Illinois.
Led by Brett Lundstrom, the agency currently reports $7.3 million in annualized revenues.
Founded in 1953 by E. John Lundstrom, the agency is third-generation family owned and operated.
According to information on Lundstrom's website it offers personal, commercial, life/health and employee benefits insurance products and services.
Headquartered in Lake Mary, Florida and led by Jim Henderson and Tom Riley, AssuredPartners Inc. acquires and invests in insurance brokerage businesses (property and casualty, employee benefits, surety and MGU's) across the United States and in London.
Southeast
Coastal Insurance Underwriters, Cybercom
Coastal Insurance Underwriters Inc., a Ponte Vedra Beach Florida based MGU and program administrator, acquired the assets of Cybercom International Corp. on Jan. 2.
Cybercom International Corporation, Inc. was established in 1997 as a custom software development company in Ponte Vedra Beach, FL. During the past 23 years, Cybercom has been building enterprise-level applications for a number of vertical markets, including insurance, e-commerce, industrial, medical, and manufacturing.
Cybercom's capabilities include new product development, existing product support, analytical reporting, document generation, third-party integration and workflow automation.
In the insurance marketplace, Cybercom has built tools for a number of coverage lines, including property, general liability, crime, directors & officers, umbrella, commercial auto liability, and more.
Cybercom has maintained a strong relationship with Coastal for over 15 years. Coast said what started out as a simplified rating engine has transformed into a full lifecycle policy system for both personal and commercial lines products.
The companies work together to continue to advance in automation and enhance Coastal's proprietary policy lifecycle management system.
Erez Wolf, president and founder of Cybercom International Corporation Wolf will become Coastal's chief technology officer and president of Cybercom Technology, LLC.
Coastal Insurance Underwriters, Inc., founded in 2007, is a program administrator specializing in designing, creating, and managing insurance products for a variety of business classes, including condominium associations, homeowner associations and golf and country clubs.
Coastal focuses on community association products with over 8,000 homeowners and condominium associations currently insured.
Marsh & McLennan, Ironwood Insurance Services
Marsh & McLennan Agency, the middle market agency subsidiary of Marsh, has acquired Ironwood Insurance Services, LLC, an independent broker in the Southeast.
Founded in 2007 and based in Atlanta, Ironwood provides commercial property/casualty insurance, employee benefits, and private client solutions to midsize businesses and individuals throughout the US. Ironwood specializes in pre-close due diligence, transactional solutions, and risk management services to private equity funds and their portfolio companies.
It also has dedicated expertise in serving the real estate, construction, energy, manufacturing, professional services, and health care industries.
Ironwood's 85 colleagues will continue to operate out of the firm's existing Atlanta and Charlotte, N.C., offices.
Will Underwood, founder and CEO of Ironwood, will continue to serve as CEO and will take on the additional role of Private Equity Center of Excellence leader for MMA, nationally.
Partners Matt Lovein and Matt Hene will become co-Presidents of Ironwood.
Marsh & McLennan Agency LLC is a subsidiary of Marsh established in 2008 to serve as a platform for the middle market.
MMA offers commercial property, casualty, personal lines, and employee benefits to midsize businesses and individuals across North America.
South Central
Brown & Brown, Texas All Risk
Brown & Brown Inc. through its subsidiary, Hull & Company LLC, has acquired substantially all of the assets of Dallas-based Texas All Risk, a managing general agent placing a wide range of property/ casualty insurance for businesses and individuals in Texas, Louisiana, and Oklahoma.
The transaction includes the asset acquisition of the All Risk companies: All Risk General Agency Inc.; Select General Agency LLC; TARGA Investment Corporation; TARGA Premium Finance Company Inc.; and Texas All Risk General Agency Inc.
Following the acquisition, the Texas All Risk team will continue operating from its Dallas location as a new stand-alone office within Brown & Brown's Wholesale Brokerage Segment under the leadership of Kelly Davis, president/CEO of Texas All Risk for the past 15 years.
Brown & Brown Inc., based in Daytona Beach, Florida, is an insurance brokerage firm, providing risk management solutions to individuals and businesses.
Galiot Insurance Services, Higginbotham
Houston-based Galiot Insurance Services, with a specialty in the life sciences sector, and insurance broker Higginbotham, headquartered in Fort Worth, Texas, have merged operations.
Galiot President and CEO Brian Toglia, with 14 years of experience in the insurance industry, focuses on the life science market, serving pharmaceutical, biotechnology, medical device, software and instrument companies in 22 states as well as foreign companies with U.S. subsidiaries.
At Higginbotham, he will serve as life science practice leader and assumes direction of Higginbotham's existing life science group.
Higginbotham has more than 20 industry practice groups that cater to companies with specialized risks.
Uniting with Toglia gives Higginbotham additional expertise to serve the life science industry while expanding risk management service to his existing clients in the areas of loss control, claims support and risk management technology.
Toglia is based in Higginbotham's office in Houston in the Energy Corridor.
West
NFP, Koty-Leavitt Insurance Agency
NFP has acquired Koty-Leavitt Insurance Agency Inc. in Tucson, Ariz.
Lloyd Koty, a former co-owner of the firm, will join NFP as senior vice president, reporting to Ed Kurowski, NFP West region managing director.
Koty-Leavitt specializes in offering tailored insurance solutions to medical device distributors.
NFP is an insurance broker and consultant providing specialized property/casualty, corporate benefits, retirement and individual solutions through its licensed subsidiaries and affiliates.
Was this article valuable?
Here are more articles you may enjoy.
From This Issue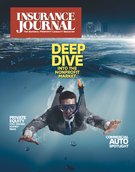 Agency Mergers & Acquisitions; Markets: Nonprofits, Commercial Auto