With unemployment at an all-time low, companies are implementing smarter strategies to gain an advantage in attracting and retaining talent. That effort involves finding ways to appeal to workers of different generational cohorts, including millennials, which have become the largest generation in the U.S. labor force.
So, how can a company do this? Research shows a solution is corporate social responsibility (CSR) – a self-regulating model that allows companies to conduct business ethically and meaningfully.
By 2020, millennials will make up 50% of the American workforce, according to Cone Communications' 2016 Millennial Employee Engagement Study. Millennials, it reports, are seeking greater involvement in CSR commitments through work and expect their employers to lead the way. The insurance industry is uniquely positioned to help its professionals make a difference both at work and in the community. Why? Insurers' business models are rooted in helping customers during difficult times and putting communities back together after disaster strikes. Meshing that fidelity with a commitment to social good is attractive to not only millennials, but to any workers who want to feel they can change the world for the better.
Looking Inward
The industry must provide employees with a path for community outreach. According to the Cone study, 64% of millennials won't take a job if a potential employer doesn't have strong CSR practices, demonstrating the importance of this requirement to that population of the workforce.
The insurance industry is uniquely positioned to help its professionals make a difference both at work and in the community.
Across the industry, insurers have developed suites of CSR touchpoints. Here are a few examples of what CNA is doing:
Corporate and employee giving. CNA supports the generosity of its employees by matching contributions to qualified nonprofits – up to $5,000 per year.
Diversity and inclusion. A culture that welcomes employees from all types of backgrounds and life experiences is a benefit to employees, the company and customers.
Employee volunteerism. Employees are engaged in the communities in which they live and work and are encouraged to seek manager approval to volunteer when they want.
Environment Sustainability. Beyond supporting organizations financially, green practices have been incorporated for many years.
Looking Outward
In addition to policies that can be implemented within a company, insurers can look outward to partner with organizations that are shaping the future of the industry. Gamma lota Sigma offers programs, partnerships, campus engagement and a lifelong professional network to lead diversification of the industry's student talent.
The Insurance Careers Movement is a grassroots effort to spread the word that insurance is the career trifecta: stable, rewarding and limitless. This shows graduates with diverse backgrounds that insurance has a place for them. And philanthropic groups like the Insurance Industry Charitable Foundation unite the strength of the industry by providing grants and opportunities for volunteer service, as well as by inspiring leadership and promoting the power of diverse talent. IICF events empower industry professionals, especially those seeking experience in collaborative leadership roles, to volunteer with a sense of purpose as they grow professionally while bringing their employers together to deepen their community impact. This empowerment helps to build a bold, talented, socially conscious and diverse workforce for the future.
In today's competitive talent market, it behooves every insurance organization to look inward and outward in providing opportunities for employees to make a positive community impact. If employees see their values reflected in the opportunities they can tap into at work, it creates a stronger connection for them and makes the company an employer of choice.
Topics Talent Training Development
Was this article valuable?
Here are more articles you may enjoy.
From This Issue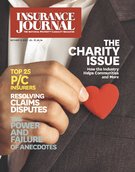 The Charity Issue; Photos of Your Organization Involved in Charity Work; 10% of Net Sales Go to IICF & City of Hope