David Duncan of David C. Duncan Insurance Services in Rancho Santa Margarita, Calif., is worried about whether and how much the cost of his agency errors and omissions insurance might go up next year. Duncan started his agency in July 2006 after having worked professionally in the insurance business for 12 years, and was a partner in another agency before splitting off to create his own business. Duncan, who now pays around $2,500 a year in premium for an excess and surplus policy for his small agency, says "next to the cost of my agency management system, my E&O was probably my first or second highest start up cost."
Duncan is not alone in worrying about his agency E&O coverage.
Over the past three years, premiums for insurance agency E&O policies increased for more than three-quarters of insurance agencies across the United States, and a majority (57.9 percent) of agencies expect their premiums to go up again for 2007.
Nearly 460 agency principals from 43 states responded to a weeklong online survey conducted in early September 2006 by Insurance Journal. Of those respondents, 77.2 percent said their E&O premium rose over the past three years.
Sixty percent of agents who responded to the survey indicated their E&O premium increased in 2006 compared with 2005; 13.1 percent said it decreased; and 26.9 percent said it stayed the same.
Where E&O rates have been rising, they have reached notable heights, with more than a quarter experiencing hikes in excess of 20 percent. Of those agencies whose premiums have gone up over the past three years, 16 percent said they rose between 6 to 10 percent; 15 percent had a 11 to 15 percent rise; 12 percent had a 21 to 25 percent increase; and 14 percent saw their premiums go up more than 40 percent over the last three years.
At the same time, those enjoying decreases might not have noticed. Of those whose premiums had gone down, 23 percent experienced a decrease of less than 1 percent over the past three years, while 15 percent saw a 6 to 10 percent decrease during that period of time.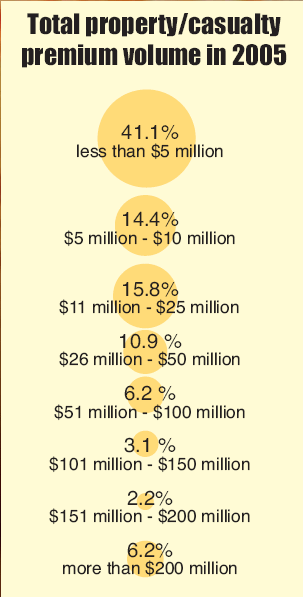 The good news is that the worst may be over, at least in terms of prices rising. According to Mark Wolf, assistant vice president, E&O Operations, with the Insurance Agents and Brokers of America's Big "I" Advantage, costs for agents E&O are beginning to slow.
"There's softening in the market," Wolf said. "There are some new players coming in; there are some players being aggressive. … Pricing seems to be softening. I think what you're seeing right now is availability is going to increase and pricing is going to decrease."
Explaining that the trend over the past six months has been towards an exit from the hard market, Wolf added that prices are "definitely not going to go up any higher, unless you've had claims." He said that new players are coming into the market and "that some of the primary players are now writing some of the types of agencies they would not have written six or 12 months ago."
To underscore his remarks, a search of Insurance Journal's Web site (www.insurancejournal.com) revealed five announcements for new or expanded markets for insurance agency E&O coverage in the last six months, including a program for agents who have been licensed three years or less.
Wolf warned, however, that carriers without experience and a long-term commitment to the line of business could find it a difficult one. "There is frequency, there is severity in this line," he said. "Unless you have long-term experience with insurance agents E&O I think you're in for maybe some surprises when you come in and start writing this coverage."
"Traditionally the agents E&O line has not been profitable," said David Hulcher, director of Agency E&O Risk Management Services, Big "I" Advantage Products and Services Team. "Over the last several years we've seen carriers getting out of the business. We've seen carriers that are not true national players … and they pick and choose what states they are going to conduct business in."
Long-term partners
As IIABA's Wolf noted, longevity in relationships is key in this marketplace. A majority of respondents (64.9 percent) said they had not changed their E&O carrier over the past three years, while 35.1 percent had changed carriers.
Not surprisingly, of those respondents that had changed carriers, 23.3 percent said price was the driving factor for seeking a new provider.
Duncan, of the relatively new California agency, had to shop around quite a bit to find a policy that was a good fit for his business.
"I approached three different MGAs and never got a response back from them," Duncan said. After he sent them applications, they "promised to provide me with a quote. I never even heard back from them. No phone call back, not a correspondence back, never got anything back saying we need more [information], never received a quote from them, never anything."
Duncan finally found coverage through Arrowhead General in San Diego, a managing general agency that provided him with three competitive quotes, all from non-admitted markets.
On the other hand, Buchamp & McSpadden Inc. in Warsaw, Ind., has been with its carrier, Safeco, for over 25 years, according to agency principal, Larry McSpadden. He credits open communication between his agency and the company for their long-term affiliation, despite having had several claims.
"As our agency has grown our premium has stayed more or less in line," McSpadden said. "We had some incidents and we have a very good relationship with Safeco in terms of communicating early with them when something is happening; working with them for the best approach. There have been a couple of claims that were a bit over our deductible that we decided to just pay — 100 percent. We've done our best to really be open and communicate on every level about what we're doing and about any possible claims and I think that has helped keep the renewals in line."
He said his agency — which he described as a medium-sized firm with 40 employees, four locations and 37 licensed employees — pays around $25,000 a year for its E&O coverage.
McSpadden and his agency colleagues have worked hard on risk management processes within the operation, especially in the last couple of years. "[T]hat's in the area of procedures and documentation, primarily. We're on AMS 360 [agency management system] and it's used to document activity that can be involved in proving what happened. It has become a part of our workflows. And we work hard to make sure that everybody — producers and CSRs — are following the same general procedures."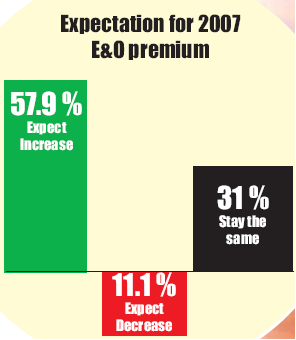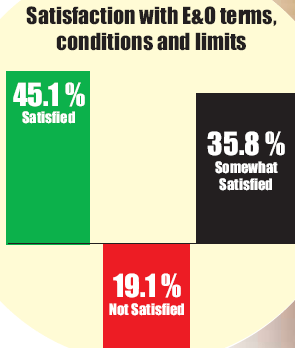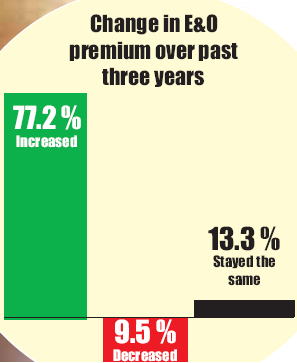 Agent associations
Insurance Journal survey, about half (50.4 percent) of all agencies buy their E&O policies through an agent trade association. Of those purchasing through an agent trade association, 44.4 percent purchased through the IIABA or a state affiliate, while 19.5 percent used the National Association of Professional Insurance Agents or a PIA state affiliate.
Given so many agencies turn to them for coverage, the agent associations are competing for the business.
The Big "I" program, underwritten by Westport, which was bought this year by Swiss Re, is broadening its coverage possibilities through a tiered approach. In addition to its preferred Westport product, with its broad policy form and a basic policy, the program is adding a standard form that is a little more expensive but will cover harder-to-place agencies. In addition, plans are in the works for an "excess and surplus lines product and it's also going to be issued by a Swiss Re company yet to be named," Wolf said.
Also, the Big "I" is piloting a new product with Fireman's Fund Insurance Co. to offer a nationally endorsed program for insurance agents E&O coverage. This new product adds an additional market to the Big "I" National Professional Liability Program in five states.
The National PIA has a new market through Lloyd's of London, utilizing Lighthouse Underwriters LLC (a member company of U.S. Risk Insurance Group, Inc.) as the preferred E&S broker.
According to PIA Executive Vice President & CEO Len Brevik, "We believe that this new E&S market is important for many agencies due to changing underwriting appetites in the admitted marketplace for agents' E&O. Due to narrowing underwriting requirements, many more independent agencies need to access this coverage through non-admitted carriers."
Outside of agent trade groups, competition is also heating up. London American Professional Liability LLC, a program administrator and managing general agency, has introduced a new nationwide program.
Also, Rockwood Programs has partnered with certain underwriters at Lloyd's of London to offer professional liability coverage specifically for property casualty agents licensed less than three years.
"Our management team has long recognized that recently licensed producers represent an under-served niche within the larger insurance agent community", says Darryl McCallin, vice president of Rockwood Programs. "In the past, we have had to decline risks if the applicant had less than three years of experience in the industry. This forced these new agents to make a daunting choice — either secure coverage through a high-priced indemnity market, or self-insure their professional liability exposure."
Although the future will tell whether pricing, availability or underwriting will ease for insurance agents and brokers, agents have more than pricing on their minds. In the Insurance Journal survey, 67.6 percent said over the past two years they had found insurers to be using stricter underwriting requirements and exclusions — about twice the number (32.4 percent) that said this was not their experience.
Just under half the respondents, 45.1 percent said they were satisfied with their terms, conditions and limits; 19.1 percent said they were not satisfied and 35.8 percent said they were somewhat satisfied.
More than half, or 56 percent of respondents, in the Insurance Journal survey said they had never had an E&O claim against their agency; 44 percent said they had experienced claims.
IIABA's Hulcher thinks agencies — and E&O programs — need to focus more on claims prevention methodologies in the future. If agencies have good loss control and good workflow procedures these will not only "have a very positive impact" on a book of business but they will also help the agencies themselves be more profitable.
The survey participants
Eighteen percent of those responding to Insurance Journal's E&O survey hailed from California, 11.4 percent from Texas, 9.4 percent were Floridians, 5.8 percent were from the state of New York, 5.3 percent responded from Illinois and 5.1 percent were from Virginia.
Of the agency principals who responded, 63.8 percent said their agencies conduct business in 1 to 5 states; 17.5 percent of respondents conduct business in most states.
Nearly half (48.5 percent) said their agencies have between one and 10 employees; 15.9 percent of respondents had from 11 to 20 employees; 9.2 percent had 21 to 30 employees; 16.7 percent had between 31 and 100 employees, and 9.8 percent had more than 100 employees.
More than three-quarters said they pay more than $2,500 a year in premium for agency E&O.
Of the survey participants, 39.5 percent had more than 30 years in the insurance business; 28.1 percent had been in the insurance business for 21 to 30 years; 16.4 percent of the respondents had been in it 11 to 20 years; 6.1 percent had 6 to 10 years insurance experience and 9.9 percent had been in the business less than 5 years.
Agencies that said they had a total property/casualty premium volume in 2005 of under $5 million: 41.1 percent; 14.4 percent indicated their P/C premium volume fell between $5 million – $10 million; 15.8 percent had $11 million – $25 million; 10.9 percent had $26 million – $50 million; 6.2 percent had $51 million – $100 million; 3.1 percent had $101 million – $150 million; 2.2 percent had $151 million – $200 million; and 6.2 percent had more than $200 million in premium volume.
For 15 percent of the survey participants, at least 90 percent of their business was in commercial lines; 14 percent did 100 percent of their business in commercial lines. Only 4 percent of respondents said their business consisted of 100 percent personal lines. For 18 percent of respondents, personal lines accounted for 10 percent of their business; 14 percent had 20 percent of their business in personal lines; and for another 14 percent personal lines made up 40 percent of their business.
Of those participating in the survey, 78.1 percent had taken risk management steps within the past year to reduce exposure to E&O claims; 21.9 percent had not.
Finally, 53.6 percent of the respondents believed that other agencies take E&O risk seriously; 46.4 percent believed they do not.
Was this article valuable?
Here are more articles you may enjoy.
From This Issue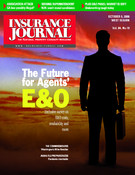 The Future for Agents\' E & O