New York Attorney General Eliot Spitzer's filing on Oct. 14 of charges against giant insurance broker Marsh for alleged commercial account steering and bid-rigging has already had significant impact on Marsh and is expected to reach into the insurance brokerage community and the independent agency force.
Many observers expect the impact to deepen as Spitzer expands his probe of placement service agreements and other contingency commission deals to other companies and lines of insurance and as other states and the courts get involved.
Spitzer's office has even suggested it could reach down to independent agents in their dealings with individual consumers. "We are looking at the big insurance companies to see if there have been payments designed to influence small independent brokers," David Brown, chief of Spitzer's investment bureau told USA Today. "If brokers have been less than objective in giving their advice to [individual consumers], we think that is a problem."
Independent agents see things differently. While not condoning bid-rigging or any illegal activity, they note that there is a fundamental difference between an independent agent and a broker that is not always understood by the public. Agents have a fiduciary responsibility to the insurance company they represent, while brokers do not–brokers work for their customers.
Robert Rusbuldt, CEO of the Independent Insurance Agents and Brokers of America vigorously defended their place in the independent agency system. He said that contingency and profit-sharing agreements are legal in the states and that such arrangements are central to sales organizations.
"The more you sell, the more incentives," he told Insurance Journal. "It's the American way." He acknowledged that even disclosure, however, is not ideal because the dollars involved are usually not known at the time of an individual sale. He said he does not think states will radically alter agencies' compensation programs after the Marsh controversy fades.
Meanwhile, the Marsh Board accepted the resignation of Jeffrey W. Greenberg from the posts of chairman and chief executive. The ouster appeared aimed at clearing the way for settling the civil charges filed by Spitzer, who accused the New York-based company of bid rigging and price fixing.
The board replaced Greenberg with Michael Cherkasky, who had the week before been named head of Marsh Inc., the company's risk and insurance services unit. Before that, Cherkasky had been chief executive of Marsh Kroll, risk consulting subsidiary.
The day after sacking its CEO, Marsh & McLennan announced it would adopt "significant reforms," including the permanent elimination by Jan. 1 of incentive fees.
Cherkasky told a conference call with reporters that Marsh & McLennan also was centralizing its insurance placement process to give the company "the ability to get the best deal for our clients" and to create a system that can be easily audited.
He said he believed that moving quickly to adopt reforms will "give us competitive advantage" in the marketplace.
Cherkasky also said he believed there were "very, very, very few" instances of price fixing and added that the company "will work with the attorney general to figure out an appropriate restitution package."
Marsh & McLennan said in its announcement that "all revenue streams will be 100 percent transparent to clients." It said it would outline for the clients all fees, retail commissions, wholesale commissions and premium finance compensation. It added that the company "will insist that insurance companies show commission rates on all policies."
Marsh & McLennan also has formed a global compliance organization, reporting to Cherkasky.
The departure of Greenberg, who had been CEO of Marsh & McLennan since November 1999, was aimed at spurring settlement talks with New York's attorney general, as is the new reform package. After the announcement of Greenberg's ouster, Spitzer said the board's action "permits Marsh and this office to move forward toward a civil resolution of our lawsuit." Spitzer added that any criminal action would not be against the company but against individuals.
Cherkasky spent 16 years working in the criminal justice system, some of them as Spitzer's boss in New York.
Marsh also learned that a class action lawsuit on behalf of shareholders has been filed against it. The complaint alleges that defendants violated federal securities laws by failing to disclose that hundreds of millions of dollars of the company's profits derive from illegal activities, namely "contingent commissions."
Marsh is not alone in being targeted in a class action suit. A Chicago judge in late July approved a class action lawsuit against Aon Corp. Observers are predicting that there will be additional lawsuits against brokers on behalf of shareholders and customers.
In addition to fostering costly litigation, the charges initiated by Spitzer are expected to affect the revenue and profitability structure of the broker sector over the long term, according to industry insiders and security analysts.
Cochran, Caronia Securities LLC, out of Chicago, notes that contingent commissions comprise 5 percent of revenues and 15 percent of earnings for publicly traded brokers. "Reduction or elimination of revenues related to these arrangements would have an obvious negative effect on profitability," the analysts noted.
From This Issue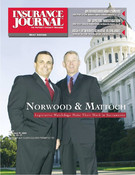 Agriculture