Stock Prices: Shares of commercial lines insurers were down 2 percent in the first quarter of 2006, with the exception of Ohio Casualty Corporation, whose stock traded up 12 percent. In February, Ohio Casualty announced fourth quarter and 2005 year end results. The company reported fourth quarter 2005 net income of $77.3 million, or $1.19 per diluted share, compared to $56.9 million, or $0.82 per diluted share for the fourth quarter of 2004. For full year 2005, net income was $212.7 million, or $3.19 per diluted share, compared to $128.4 million or $1.89 per diluted share for full year 2004. Ohio Casualty reported a GAAP combined ratio of 94.2 percent for all lines of business for 2005, a 5.4 point improvement from its 2004 combined ratio. ACE Limited reported net income for the fourth quarter of 2005 of $237 million or $0.70 per common share, compared with net income of $278 million or $0.93 per share for the same quarter of last year. Hurricane related losses resulted in an after-tax charge for the quarter of $0.94 per share.
M&A Activity: Activity was scarce during the first quarter of 2006. Six deals were announced in the first three months of the year compared to 12 announced deals for the same three-month period in 2005 (down 50 percent). Insurance companies are putting acquisitions on the back burner as they are able to grow organically in the hard market rather than through acquisitions.
Capital Raising: Capital raising activity has quieted considerably. Two companies announced the issuance of trust preferred securities, a cost-effective financing tool viewed as "permanent" capital. North Pointe announced that a newly formed, wholly owned subsidiary, NP Capital Trust I, issued $20 million of 30-year (8.70 percent) trust preferred securities. The company will primarily invest the $19.4 million of net proceeds. Montpelier announced that it raised $100 million through a private sale of trust preferred securities. Trust preferred securities were issued by a newly formed statutory trust, Montpelier Capital Trust III. The securities have a fixed rate of interest equal to 8.55 percent per annum through March 30, 2011, and thereafter a floating interest rate of 3-month LIBOR plus 380 basis points, reset quarterly.
LMC Capital LLC is a national investment banking firm focused exclusively on the insurance industry. The firm can be contacted at (704) 943-2600, by e-mail at Info@LMCCapital.com, or visit www.LMCCapital.com.
Was this article valuable?
Here are more articles you may enjoy.
From This Issue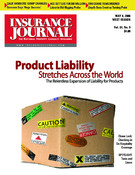 Product Liability Stretches Across the World