JANUARY
Hallmark Aquires Aerospace Holdings
Fort Worth, Texas-based Hallmark Financial Services Inc. has completed its acquisition of Aerospace Holdings LLC, which markets general aviation insurance products. Hallmark underwrites non-standard personal automobile insurance.
The American National Bank of Texas of Terrell, Texas, has acquired Dallas-based insurance agency Sleeper, Sewell & Co., which wrote $60 million in premiums.
Duncan, Fraser & Bridges Insurance Agency Inc., a member of Combined Agents of America LLC, has purchased Amarillo, Texas-based independent insurance agency, Edmond, Deaton & Stephens. The purchase represents $10 million in premium.
Hallmark Financial Services Inc. closed its acquisition of Texas General Agency Inc. and certain affiliates. TGA is a managing general agency for commercial automobile and general liability risks. The acquisition also included TGA's wholly owned subsidiary, Gulf States Insurance Co.; TGA Special Risk Inc.; and Pan American Acceptance Corp. Hallmark required $14.6 million for the deal.
TD Banknorth Insurance Agency Inc. finalized its acquisition of Boothby & Bartlett Co., an agency in Waterville.
Jacobs Financial Group Inc. has acquired all of the stock of West Virginia Fire and Casualty Co. from The Celina Mutual Insurance Co. of Celina, Ohio for $2.9 million.
The acquisition of the assets of Axiom Intermediaries LLC of Stony Creek, N.C. has been completed by Brown & Brown Inc. of Daytona Beach, Fla. Axiom, with $14 million in revenues, is a reinsurance intermediary.
FEBRUARY
M&T Insurance Agency Inc. has acquired Hess Egan Hagerty & L'Hommedieu Inc., a commercial insurance and surety brokerage based in Chevy Chase, Md.
Hilb Rogal & Hobbs Co. signed an agreement to buy Zutz Associates Inc., a large Delaware independent insurance agency. Zutz had 2005 gross revenues of $11.3 million and premium volume over $100 million.
U.S. Risk Insurance Group in Dallas, Texas, is acquiring Lighthouse Underwriters LLC of Anandale, Va. The combined companies will have more than $400 million in premium.
Seattle Financial Group, a mortgage banker, reported the acquisition of Turnure & Associates, a property and casualty insurance broker, creating Seattle Insurance Group.
MARCH
Willis Group Holdings Limited reported the acquisition of Gueits, Adams & Co. in New York City. The firm specializes in jewelers block and has revenues of $4 million.
Bollinger Inc. acquired three insurance agencies with common ownership: The Hitchner Agency, Elmer, N.J.; Tri County Insurors, Pennsville, N.J.; and the Barton F. Sharp Agency located in Bridgeton, N.J. The combined commission revenues of the three agencies was in excess of $3.75 million in 2005. With this acquisition, Bollinger's projected revenues for 2006 will exceed $100 million.
with Howland Agency
Eastern Insurance Group acquired Howland's Insurance Agency in Rockland, Mass. Eastern is a subsidiary of Eastern Bank.
First Bank, a wholly owned subsidiary of First Banks Inc. in St. Louis, acquired Clayton, Mo.-based privately-owned insurance brokerage Adrian N. Baker & Co.
A subsidiary of American International Group Inc. is buying Travel Guard International, a seller of travel insurance programs and emergency travel assistance, from the Noel Group of Stevens Point, Wisc. AIG will also acquire Mercury International, Travel Guard Americas and the Travel Guard Canada brands from the Noel Group.
APRIL
Hub International Limited has closed its acquisition of three insurance brokerages from Citizens Financial Group Inc. for $80 million. The three are: Citizens Clair Insurance Group, in Norristown, Pa.; Brewer & Lord, based in Norwell, Mass; and Feitelberg Insurance, based in Fall River, Mass. They had combined revenue of $45 million in 2005.
NBIS, the exclusive underwriting manager for ProBuilders Specialty Insurance Co., RRG, has acquired Special Risk Services Group LLC., a Chicago based specialty program underwriter in the crane-rigging and heavy haul transportation industry.
Heffernan Insurance Brokers, based in Walnut Creek, Calif., is merging with Advanced Insurance of Orange, Calif. Advanced Insurance's specialty matches Heffernan's nonprofit and church market focus.
CBIZ Inc. has acquired Burnham, Colman, Kaelin & Walker of St. Joseph, Mo., an agency specializing in agriculture, construction and printing industries. BCK&W recorded $5 million in annual revenue. CBIZ provides professional business services.
Acordia Inc., an insurance subsidiary of Wells Fargo & Co. writing in excess of $8.5 billion of premiums, acquired Edward C. Brodie Insurance Brokers Inc. in Sacramento, Calif.
MAY
Odyssey Investment Partners LLC completed its acquisition of York Insurance Services Group Inc. of Parsippany, N.J. York is an outsourcer of specialty claims management.
Atlanta-based Beecher Carlson and the SawyerFoster Insurance Group of Gulfport, Miss., have joined forces. SawyerFoster is an independent agency focused on hospitality, gaming, health care, marine and construction industries.
Fla.-based Brown & Brown Inc. announced the acquisition of Ideal Insurance Agency Inc., a retail and wholesale organization with revenues of $3.1 million from serving public and quasi-public entities in Illinois.
N.Y.'s Hirsch Wolf & Co.
Hub International Northeast acquired Hirsch Wolf & Co. LLC, a Brooklyn-based property and casualty insurance brokerage with special expertise in the health care industry and $7 million in revenues.
Community Banks Inc. has completed its acquisition of Wiley Insurance Agency Inc., located in Mt. Joy, Pa. Wiley has now become a part of CommunityBanks Insurance Services LLC.
Cleveland-based International Excess Companies has bought WSIB Motorsports Insurance of Indianapolis, Ind. WSIB offers coverage for professional, semi-professional and amateur race teams.
Acquires JLT Services
Affinity Insurance Services Inc., a subsidiary of Aon Corp., acquired a division of JLT Services Corp. specializing in program administration for association insurance programs.
Berkshire Hathaway completed its acquisition of Applied Underwriters, an integrated workers' compensation service firm and all of its subsidiaries including its North American Casualty insurance companies.
JUNE
France's largest insurer, AXA Group, concluded an agreement to cede its reinsurance operation – AXA Re and its subsidiaries – to Paris Re Holdings Limited. The deal will produce around $154 million in capital gains.
GE Insurance Solutions Acquisition
Swiss Re and General Electric completed the sale of GE's reinsurance business, GE Insurance Solutions, including Employers Reinsurance Corp. (ERC), to Swiss Re for about $7.4 billion, plus the assumption of $1.7 billion in GEIS debt. Swiss Re noted that the acquisition creates the world's largest global reinsurer. The operating companies included in the transaction are: Employers Reinsurance Corp., GE Frankona Reinsurance Limited (UK), GE Frankona Ruckversicherungs-Aktiengesellschaft, GE Reinsurance Corp., Westport Insurance Corp. and First Specialty Insurance Corp.
Bollinger Inc., a national privately held insurance broker, has acquired Windsor Benefit Consultants Inc. and James E. Hopgood & Associates of Denville, N.J.
Acquires Lemac & Associates
Risk Placement Services Inc., a subsidiary of Arthur J. Gallagher & Co., has acquired Lemac & Associates Inc., a wholesaler in Los Angeles.
The Arkansas division of M.J. Kelly Co., an insurance brokerage firm headquartered in Springfield, Mo., agreed to purchase certain assets of Russell Grace Inc., Fort Worth, Texas, a wholesale broker. M. J. Kelly Co. is also a wholesale brokerage.
Swiss Re has completed the sale of its wholly owned subsidiary Fox-Pitt, Kelton to an investor group led by J.C. Flowers & Co. LLC and by FPK management. Swiss Re will hold a minority interest in the new company.
JULY
Reinsurance Units
ACE Limited has sold three run-off reinsurance subsidiaries to Randall & Quilter Investment Holdings Ltd., an international insurance management firm. The agreement concerns the sale of ACE American Reinsurance Co., Brandywine Reinsurance Co. (UK) Ltd. and Brandywine Reinsurance Co. S.A.-N.V. to Randall & Quilter. It was approved by the U.K.'s Financial Services Authority and the Pennsylvania Insurance Department.
The Brittany Insurance Services
Investors Underwriting Managers Inc., The Markel Group of Companies, has added The Brittany Insurance Services Inc. to its group. The Brittany is a program administrator writing property business in California.
Arthur J. Gallagher & Co. of Illinois has acquired S.P. Tarantino Insurance Brokerage Inc. of San Francisco. Tarantino specializes in the restaurant, hospitality, manufacturing, trucking and property-owner industries.
Brown & Brown Inc. of Daytona Beach and Tampa, Fla. Tacquired The Anderson Group of Owensboro, Ky., and its revenues of $1.2 million.
Wachovia Insurance Services in Charlotte, N.C., has acquired Miami, Fla.-based U.S. Insurance Underwriters in a deal that provides Wachovia its first entry into the Miami market.
Columbia Insurance Co., a member of the Berkshire Hathaway Group, has agreed to acquire American All-Risk Insurance Services and American Commercial Claim Administrators, both subsidiaries of Acacia Pacific Holdings. AARIS and ACCA provide underwriting, operational, and claims management services for California workers' compensation business.
AUGUST
Hilb Rogal & Hobbs Co. completed its acquisition of Chicago-based Thilman & Filippini LLC. Thilman Filippini had revenues of approximately $24 million in 2005.
American International Group has completed its acquisition of 100 per cent of the common shares of Central Insurance Co. Ltd. in Taiwan. Central Insurance is ranked sixth by gross premium written in Taiwan.
Forbes International
Lockton Inc. will acquire Alexander Forbes International Risk Services, the brokerage operation of Alexander Forbes Ltd. Lockton said the $170 million transaction would make it the largest independent, privately owned global insurance broker with more than $600 million in revenues.
SEPTEMBER
France's AXA Group has received approvals from U.S., Swiss and the European Commission antitrust authorities for its $9.89 billion agreement to acquire Winterthur Swiss Insurance Co. from Credit Suisse.
CRM Holdings Ltd., a provider of services and reinsurance to self-insured workers' compensation groups, signed a stock purchase agreement to acquire privately-held Embarcadero Insurance Holdings Inc. for approximately $45 million. Embarcadero, through its wholly-owned subsidiary, Majestic Insurance Co., writes workers' compensation.
with R.W. Barss & Associates
Michigan's Hylant Group Inc., merged with R.W. Barss & Associates, a Grand Rapids benefits firm.
The Phoenix Group, an independent insurance agency in Ripon, Wis., purchased Union Bank Insurance Group, based in Peru, Ill.
USI Holdings Corp. has acquired a book of business from Universal American Insurance Agency Inc., which sells insurance to customers of home builders. The book represents more than $6 million of revenues.
Acquires Cove Agency Accounts
Gallo Insurance Agency, an Empire Insurance Holdings LLC company in West Palm Beach, Fla., acquired the individual policies of Cove Insurance Agency in Palm Beach Gardens.
JCH Insurance Brokers
BISYS Commercial Insurance Services bought JCH Environmental Insurance Brokers, the environmental practice of JCH Insurance Brokers in New York.
Appalachian Underwriters Inc. has purchased CRC Insurance Service's guaranteed cost workers' compensation program. AUI is based in Clinton, Tenn. CRC Insurance Services Inc. is the wholesale insurance subsidiary of Branch Banking and Trust Co.
OCTOBER
Brown & Brown Inc., through its subsidiaries Hull & Co. Inc., and Program Management Services Inc., has acquired a wholesaler located in the Northeast and a Virginia broker. Hull & Co. Inc. has acquired wholesaler Delaware Valley Underwriting Agency Inc., and its personal lines spin-off, Residential Underwriting Agency Inc. Their aggregate revenues are $15 million. In the other transaction, Public Risk Underwriters acquired Apex Insurance Agency Inc., of Glen Allen, Va., along with Apex Insurance Services of Illinois Inc. and Summit Risk Services Inc. Their aggregate revenues are $5.7 million. Apex writes public and quasi-public entities. Summit provides claims adjusting services for the Apex business. DVUA, RUA and Apex were subsidiaries of Penn Independent Corp., in Hatboro, Pa., a member company of United America Indemnity Ltd.
Praetorian Financial Group Inc., a specialty insurer, completed the acquisition of Alea North America Specialty Insurance Co., and renamed it Praetorian Specialty Insurance Co.
Robert Lockhart, former president of Hilb, Rogal & Hobbs, has launched Kinloch Holdings Inc., an insurance brokerage holding company and purchased Long Island-based Genatt Associates, which specializes in the real estate, construction, transportation, health care and hospitality industries. For 2005, the broker's revenues were $26 million. Genatt will serve as the group's platform in the Northeast.
Britain's Royal & Sun Alliance Insurance Group PLC said it would sell its Delaware-based U.S. operations to management for $298.9 million. The sale of the unit, Arrowpoint Capital Corp., will result in a loss of about $838.1 million.
AIG Global Marine, a division of American International Group, has purchased the U.S. Ocean Marine business from Arch Insurance Co.
Gateway Insurance Services Inc. is acquiring Insurance Center Inc., an insurance agency based in Chesapeake, Va. This is Gateway Bank's first entry into the Virginia insurance market. It has eight offices in North Carolina.
London-based broker Jardine Lloyd Thompson Group sold its U.S. based retail property and casualty and employee benefits businesses to California's Alliant Insurance Services Inc. The consideration was $100 million.
Equitas, the Lloyd's vehicle set up in 1996 to run off asbestos and environmental claims, and Berkshire Hathaway's subsidiary National Indemnity, agreed on a structure in which National Indemnity will provide up to $7 billion of reinsurance cover and conduct the run-off of liabilities.
by American Summit
Waco, Texas-based National Lloyds Insurance Co. and American Summit Insurance Co. are being acquired by Affordable Residential Communities Inc. of Englewood, Colo.
with Calif., Texas Acquisitions
North American Group, headquartered in Oklahoma City, acquired Abilene, Texas-based CIC Insurance Brokers Inc., and Anaheim, Calif.-based CTK Insurance Services Inc. With $4 million in combined revenue, they bring North American Group's total revenue to $40 million annually.
Create Lloyd's Largest Underwriter
Catlin Group Limited is buying a majority stake in Wellington Underwriting Plc. With gross premiums of $2.4 billion, Catlin will become the largest underwriting operation at Lloyd's.
Chicago-based Aon Corp. took further steps to exit its property and casualty underwriting business by agreeing to sell its Construction Program Group to Old Republic Insurance Co. for $85 million.
NOVEMBER
The holding company for Berkshire Bank completed buying five Western Mass. agencies: Reynolds, Barnes & Hebb and McCormick, Smith & Curry of Pittsfield, Minkler Insurance of Stockbridge, and H.S. Andrews of Great Barrington and MassOne of Greenfield.
Sinclair Insurance Group of Wallingford, Conn., has acquired Arthur Noll Agency of Bloomfield for an undisclosed amount. Noll generates about $3 million in revenues from construction and transportation accounts.
Fla. Agency Wyman, Green & Blalcok
BB&T Insurance Services plans to expand its Florida operation with the acquisition of Wyman, Green & Blalock Inc. of Bradenton.
Environmental Insurance Specialists
Euclid Insurance Services will buy Melbourne, Fla.-based Environmental Insurance Specialists, which specializes in waste-hauling and transportation.
USI Holdings Corp. closed on the acquisition of Seattle-based Kibble & Prentice Holding Co., which has $37 million of revenues.
Arthur J. Gallagher & Co. acquired Adams & Associates International Ltd. of Columbia, S.C., a retail broker that specializes in missionary and non-profit organizations.
First Capital Group Joins Forces
Arrowhead Wholesale Insurance Services LLC and First Capital Group have merged to form First Capital-AWIS LLC. AWIS, in San Diego, is a program provider of workers' compensation and other commercial lines. First Capital is a program manager with offices in New York, Chicago and San Francisco.
OneBeacon Insurance Group has acquired National Marine Underwriters, a yacht-specialty managing general that is based in Annapolis, Md.
Independent Insurance Investments Inc. completed its acquisition of Omni Insurance Group. Omni, an Atlanta-based insurer for high-risk drivers with premiums of $174 million. Independent, which also specializes in high-risk drivers, writes more than $220 million. It bought Omni from The Hartford Financial Services Group Inc. for $100 million.
DECEMBER
Florida-based Brown & Brown Inc. bought two insurance agencies in Dallas: ProTexn Inc. and Best Practices Insurance Agency Inc., with combined revenues of $1 million.
Fla. Acquires Gary Markel
Atlantic Specialty Lines of Florida Inc. has acquired the assets of Gary Markel Surplus Lines Brokerage, Inc. ASL offers wholesale excess and surplus lines.
Group for $1.12 Billion
Insurance Australia Group Ltd. plans to acquire the U.K.-based Equity Insurance Group, one of the country's larger motor underwriters and brokers for $1.12 billion.
Australia's QBE Insurance Group agreed to purchase the Praetorian Financial Group, the U.S. operation of Hannover Rueckversicherung AG (Hannover Re) for $800 million.
Swiss-based Converium AG has closed the sale of its North American operations to National Indemnity, a Berkshire Hathaway company. National Indemnity paid $95 million in cash and assumed debts of $200 million.
Acquires William H. Connolly
Itasca, Ill.-based Arthur J. Gallagher & Co. acquired commercial insurance broker William H. Connolly & Co. of Montclair, N.J.
Northeast Bank Insurance Group Inc. has acquired the Palmer Insurance Agency of Turner, Me. Palmer generated $4 million in gross premiums over the past year.
State Automobile Mutual Insurance Co., Columbus, Ohio, agreed to buy the Beacon Insurance Group, Wichita Falls, Texas, which writes $50 million in Arkansas and Texas.
From This Issue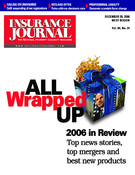 ALL Wrapped Up ~ 2006 in Review ~ Top news stories, top mergers and be