People
Cary Schneider, senior vice president of the Insurance Information Institute, has been elected executive vice president by the organization's board of directors. Schneider assumes new responsibilities for directing the internal operations of the I.I.I. while continuing to manage the I.I.I.'s Internet activities, provide support to state insurance associations and supervise the organization's subscriber services division, an in-house public relations agency which provides communications services to other industry groups.
Following Hurricane Andrew in 1992, Schneider was part of the team that managed the first Hurricane Insurance Information Center, which served as a model for industry communications efforts in the aftermath of major disasters, including Hurricane Katrina.
Prior to joining the Institute in 1977, Schneider was assistant news secretary to Illinois Governor Dan Walker. He also has worked as a reporter and feature writer for Chicago Today and the Peoria Journal Star. Articles by Schneider have appeared in Actuarial Review, Catastrophe Risk Management, Film Comment and ESPN The Magazine.
One of the founding fathers of Rotisserie League Baseball, often referred to as Fantasy Baseball, he and his colleagues were recognized by the National Baseball Hall of Fame and Museum in 2005.
The Society of Actuaries recently named Gregory W. Heidrich to serve as the association's executive director, according to Edward L. Robbins, SOA president.
Heidrich comes to the SOA from the Property Casualty Insurers Association of America (PCI), in Des Plaines, Ill., where he most recently served as senior vice president, Policy Development and Research.
Missouri-based Rockhill Underwriting Management, LLC announced that Matthew J. Semeraro has joined the organization as vice president of Surety.
Semeraro will be located in the Atlanta office in this new role and will direct and manage all underwriting, marketing and production functions for Rockhill's "Specialty" surety products. Semeraro has more than 13 years of experience in the insurance industry. Prior to joining Rockhill, he was vice president and regional director for HCC Surety Group's Atlantic Region. Semeraro was also the National Surety Underwriting manager at American Safety Insurance Services before his position at HCC Surety.
Rockhill Holding Co., headquartered in Kansas City, Mo., is an insurance conglomerate serving specialty niches including southeast wind, earthquake/DIC, residential contractors in various western states, and commercial umbrella.
Aon Consulting, the human capital consulting organization of Aon Corp., appointed Cecil Hemingway as Retirement Practice leader of Aon Consulting U.S. Hemingway will succeed Chris Bone, who announced his intention earlier this year to retire.
Hemingway comes to Aon Consulting from Towers Perrin where he was managing principal and the head of the Legacy Pension Solutions Practice. He specializes in advising organizations on financial and human capital management of their retirement programs, including strategy development, value optimization, risk management and solution implementation.
In his nine years at Towers Perrin, he quickly moved up the ranks every two years holding positions which included head of the Stamford office Retirement Practice, head of the New York Metro Region Retirement Practice, and head of the East Region Retirement Practice, before assuming his most recent position. Hemingway also was a member of Towers Perrin's Board of Directors.
In his new role, Hemingway will lead Retirement Practice operations in the United States. He will be responsible for strategy development and implementation of objectives, policies and plans. He also will serve on the U.S. Operating Committee for Aon Consulting.
Chicago-based Aon Consulting has appointed Chris Michalak as head of Business Development and Growth for Aon Consulting U.S.
Michalak comes to Aon Consulting from Buck Consultants where he was chief executive officer. In his new role, Michalak will be responsible for business development and creating strategies to drive Aon's growth across all U.S. regions and practices.
Aon Risk Services announced that Kevin Pastoor has joined the company's Southfield, Mich., office as resident sales director.
Pastoor comes to Aon from Liberty Mutual's National Accounts group, where he was responsible for new business generation and account retention for the states of Michigan and Indiana. In his new role, Kevin is responsible for managing the sales staff, supporting others involved in new business generation and ensuring that the office's new business revenue goals are achieved.
Ohio-based International Excess recently has named Antony E. DeMarco president of Business Development and chief financial officer.
In his new role, DeMarco will focus on the development of additional revenue streams via various channels including nationwide program opportunities according to the company statement.
Brown Smith Wallace announced that Dwayne Richardson, CPA has joined the company as a principal in the Insurance and Reinsurance Services Practice. Richardson provides assistance to the firm's growing insurance and employee benefit practices.
Prior to joining Brown Smith Wallace Richardson, served as a director in the St. Louis audit and accounting services practice of CBIZ/Mayer, Hoffman and McCann PC.
Richardson is a member of the AICPA, the MSCPA and is the treasurer for the Employment Connection, a United Way funded organization.
Brown Smith Wallace identifies itself as the second-largest locally owned independent full-service CPA and business consulting firm in Missouri with more than 180 employees throughout the Midwest.
From This Issue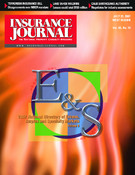 2007 Excess, Surplus and Specialty Markets Directory, Vol. II; 2nd Quarter Market Survey