People
Wisconsin-based Wausau Insurance recently announced that Michael Parker has been appointed executive vice president — Field Operations.
Parker will have oversight responsibility for all Wausau field sales and underwriting divisions. Over a 30-year career with Wausau, he held increasing levels of responsibility, most recently as senior vice president and division manager-Central Division, based in Downers Grove, Ill.
He joined Wausau in 1977 as a field claim adjuster in Joliet, Ill.
Lockton Companies has expanded its insurance services for law firms and other professional service organizations with the addition of Alaina Walls as vice president and account executive.
Walls is primarily responsible for evaluating the errors and omissions insurance needs of client law firms. In addition to helping firms interpret policy language, at renewal she will negotiate with insurance carriers on the firms' behalf to secure appropriate limits and coverage. Walls also helps client organizations secure other types of professional liability insurance including cyber-risk, management liability and employment practices coverage.
Burns & Wilcox appointed Steve Treppa as director of information technology. In his new position, he will set and implement the company's national IT strategy.
Treppa joined Burns & Wilcox from Rader, Fishman and Grauer, where he was director of information technology, responsible for managing and directing the IT function of the intellectual property law firm. Prior to joining Rader, Fishman and Grauer, he was the network engineer and legal technology manager at the law firm Dykema Gossett.
Burns & Wilcox also announced that Lynn St. Pierre has joined the company as senior art director. She is responsible for the creative development of marketing materials, special events and promotions. St. Pierre brings to Burns & Wilcox more than 20 years of creative design and project management experience.
Jennifer Buckler was recently named Accident Fund's 2007 Employee of the Year; however, she says a lucky twist of fate is the reason she had her job at all.
Arriving in Lansing in 1994, Buckler was a recent college graduate who wanted to be near her siblings — all college students in the Lansing area. Upon her arrival, she immediately went to work for a Lansing temp agency that sent her to Accident Fund on her first day. Somehow, too many temps showed up for the position, and Jennifer was nearly sent home. As fate would have it, Accident Fund found a spot for her, and a few weeks later, she had a full-time position with the company. That was 14 years ago, and Buckler remains committed to Lansing, and to Accident Fund.
Award winners are chosen based on contributions for the previous year. Since early 2007, Buckler has led a major corporate initiative. As liaison between Accident Fund and its subsidiary, United Wisconsin Insurance Co., she travels extensively and has shown great commitment and dedication to her teams and to her work.
A workers' compensation insurer, Accident Fund is headquartered in Lansing, Mich.
The National Association of Mutual Insurance Companies (NAMIC) announced that Mark Johnston has joined the association as state affairs manager for the Midwest region. Johnston is a former health insurance lobbyist from St. Louis, Mo.
Johnston will advocate on behalf of NAMIC member companies before state legislatures and insurance departments in Illinois, Iowa, Kansas, Minnesota, Missouri, Nebraska, North Dakota, Oklahoma and South Dakota. Johnston will work from St. Louis.
Michigan Governor Jennifer Granholm appointed a longtime ally to fill a new job in her administration. Granholm picked Melvin "Butch" Hollowell to be the state's automobile and home insurance consumer advocate within the Office of Financial and Insurance Services. The appointment is effective next month.
Hollowell is now general counsel of the Detroit NAACP. He was co-chairman of the Michigan Democratic Party from 2003-04 and ran unsuccessfully for secretary of state in 2002. Granholm created the insurance advocate post to help make sure insurance rates are fair around the state, among other duties, the governor's statement said.
Aon Consulting Worldwide, the global human capital consulting organization of Aon Corp., announced that Mary Kay Vona joined the Tampa, Fla., office as executive vice president and southeast region leader.
Vona brings nearly 25 years of human capital consulting experience to Aon Consulting. As the southeast region leader, she will be responsible for the region's operations including account management and business development as well as professional staff development and retention.
Vona joins Aon Consulting from IBM, where she was the global learning executive and partner in the Human Capital Management practice. While at IBM she also led human capital management for the company's communications sector.
Prior to joining IBM, Vona was a partner in the management consulting practice of PricewaterhouseCoopers.
Aon Consulting's southeast region consists of Maryland, Washington, D.C., Virginia, North Carolina, South Carolina, Georgia and Florida.
Chicago-based Aon Consulting Worldwide also recently named Lisa Caldwell as chief operations officer in its U.S. division — a newly created role within Aon Consulting.
Caldwell brings nearly 20 years of industry experience to Aon Consulting. As COO, she will oversee business operations and major U.S. corporate initiatives. She joins Aon Consulting from BearingPoint, where she was the executive vice president of commercial services.
Prior to joining BearingPoint, she worked at EDS as vice president of Solutions Consulting and at Deloitte Consulting as partner.
Throughout her career, Caldwell has led programs in support of strategic planning, business model development, outsourcing strategy and management, and technology cost management.
From This Issue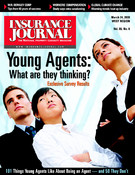 Salute to Independent Agents; Errors & Omissions; Energy/Oil & Gas