People
Rob Arnold has been named president of Houston-based insurance wholesaler Myron Steves. Arnold has been a member of the Myron Steves management team since 1995 and has also served as director of Business Development, chief operating officer, and a member of the Executive Committee.
His career spans over 30 years in the Texas insurance industry and he has held several management positions with MGA, retail and standard company operations.
Arnold served on the TSLA Board of Directors from 2004-2007; the Board of Directors of Houston Independent Insurance Agents, 1998-2001; and two terms as the president of the Texas Chapter of CIC, 1998-2001.
Former Louisiana Deputy Insurance Commissioner Bill Newton has joined GeoVera Holdings as Louisiana state executive. Newton will lead GeoVera's entrance into the Louisiana homeowners insurance market.
A native of Jefferson Parish, Newton has served in various management positions with Fireman's Fund Insurance, Continental and Transamerica Insurance Group. He was president and chief executive of NORCAL, a medical malpractice company in San Francisco, before retiring to Slidell shortly before Hurricane Katrina hit, filling his home with water.
While rebuilding and elevating his retirement home, and serving as chief executive of the East St. Tammany Chamber of Commerce, Newton became involved in Louisiana insurance issues and joined the Greater New Orleans Inc.'s task force on the subject. Newton's work in rebuilding Louisiana led to his position as deputy insurance commissioner where he was instrumental in bringing new insurance companies to the state.
GeoVera Specialty will be writing non-admitted homeowners policies through appointed wholesalers in Louisiana. GeoVera Specialty plans to write $6 to $10 million in premium for homes located south of the I-10 corridor.
Patrick G. Ryan, founder and executive chairman insurance intermediary, Aon Corp., said he intends to retire from Aon Aug. 1, 2008 after 41 years as CEO and three as executive chairman. Ryan said the firm's transition to a new management team under CEO Gregory Case is complete.
Ryan, 70, founded Aon, which has its origin in a small insurance agency he started in 1964. That agency eventually became Ryan Insurance, a firm focused on a strategy of providing advice, consulting services and distribution of insurance products to the automotive industry.
David W. Lacefield was appointed executive vice president of the NLASCO Group, a wholly owned insurance subsidiary of Hilltop Holdings Inc. of Dallas (HTH) and parent company of National Lloyds Insurance Co. and American Summit Insurance Co.
Lacefield began his insurance career in 1977 as a pricing analyst with USAA. Since then he has held responsible positions with insurance carriers and brokers, in both admitted and non-admitted markets. He is best known among Texas independent agents for his work as founder and president of a popular property insurer.
Lacefield is a member of the American Academy of Actuaries, an Associate of the Casualty Actuarial Society and holds the designations of Associate in Insurance Accounting & Finance and Associate in Reinsurance.
Swett & Crawford appointed Bonnie DeVries as transportation underwriter in the company's Dallas office. DeVries has extensive experience in transportation underwriting, specializing in local, intermediate and long haul trucking.
Before joining Swett & Crawford, DeVries worked with Litchfield Special Risk of El Paso, Texas, as a transportation underwriting specialist. Her responsibilities included all aspects of underwriting, keeping current on trends, industry activity and state/territory issues and regulations as they related to trucking and all classes of business automobile accounts.
DeVries began her career in 1977 as a transportation rater at Western Casualty & Surety in San Antonio.
Former Louisiana State Representative Shirley Bowler was named to take over the vacant position of deputy commissioner of the Office of Management and Finance in the Louisiana Department of Insurance.
Bowler was an active member of the National Conference of Insurance Legislators for 12 years, where she served on the group's Executive Committee and as chairwoman of the Property and Casualty Committee. Bowler also spent 15 years as a member of the National Conference of State Legislatures and the American Legislative Exchange Council.
As a state legislator, Bowler was a member of the House Committees on Insurance, Civil Law and Procedure, and Labor and Industrial Relations, and vice chairwoman of the House Legislative Services Council.
Holly Balmer has joined National Insurance Partners Inc.'s (NIP) San Antonio office as benefit analyst.
Balmer's responsibilities will revolve around her extensive experience in employee benefits and group life insurance. She has provided expertise to numerous clients from a variety of industry classes including retail, manufacturing, service, public entity, and construction in her five plus years in insurance.
Prior to joining NIP, Balmer was associated with one of the largest independent insurance agencies in South Texas, Coleman Company Insurance.
In her new position, Balmer will work with insurance carriers to deliver employee benefit solutions to existing NIP clients and prospective new customers.
National Insurance Partners is a Texas-based risk management, corporate governance and financial solutions firm with offices in Houston, San Antonio and Austin. The firm specializes in board of director/trustee protection, directors' and officers' liability insurance, property and casualty insurance, risk management, executive compensation consulting, executive and employee benefits.
Barb Markwell, with Templeton Insurance of Spring, Texas, was named the 2008 PIA National Customer Service Representative of the Year by the National Association of Professional Insurance Agents (PIA).
The PIA National Customer Service Representative (CSR) of the Year Award is given annually to an outstanding agency customer service representative who works for a PIA member insurance agency.
From This Issue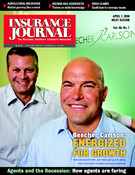 Directors & Officers Liability; Entertainment/Sports/Special Events; Group Products for P&C Agents/ Benefits Brokerage Directory