Soft market's effect on premium volume doesn't have to hinder revenue
---
Premium volume may be down for independent agencies across the country but that doesn't mean agency revenue is down for some of the nation's top performing agencies. Diversifying an agency's revenue stream helps agencies stay profitable in a soft market, according to one Top 100 agency.
"We have a diverse revenue stream so we are not totally dependent on what the property casualty market conditions are and I think that helps us," said Thomas Brown, CEO of Virginia-based Rutherfoord Cos., No. 11 on Insurance Journal's Top 100 Agencies list.
Despite soft market conditions, Rutherfoord has been able to post a 21 percent increase in sales revenue through the first nine months of the firm's fiscal year, which ends June 30, 2008. Total sales for the agency are up 28 percent over 2007, Brown added. "Yes, it [soft market] is having an impact but the level of new business is sustaining," adding that the firm's growth is purely organic and not grown through acquisitions.
Brown says that if the property/casualty market suddenly "went away" tomorrow, the firm would take a big hit but there would still be revenue coming in. "We have numerous fee based revenue streams such as environmental consulting, benefits, wrap-up administration, risk control, claims management, and outsourced risk management. We are very involved in trying to reduce the total cost of risk and not just in the product placement."
Nick Grant, CEO, Property & Casualty Division, of the San Antonio, Texas-based SWBC Insurance Services, No. 13 on IJ's Top 100, says the soft market is a good time to counsel insureds on their exposures and get them to consider optional coverages they may not have considered in the past. This could help keep revenues up in today's market, he said.
"With a reduced renewal premium it may be time to revisit business interruption coverage or things of that nature, or revisit limits," Grant said. "Perhaps they experienced growth … we have to make sure that they not only address optional coverages but that they have appropriate limits and coverages in light of their growth."
Making customers aware of their risks is always important but perhaps even more so in a soft market. "We try to go out and expose risk for an insured; solve that risk and exposure with appropriate coverages and competitive premiums and then let them make an educated business decision," Grant said.
Grant believes the soft market provides a time to educate insureds on why the industry is in a soft market. "Often the insured only sees as far as the premium and it's really our job to educate them as much as we can because we are going to enter into a hard market."
No Stranger
This soft market is "probably as brutal as any of them," says Rutherfoord's Brown. But his agency has been somewhat shielded.
"In the old days, when we went through a market cycle we felt it whichever way it moved," he said. "But we don't feel it as much now because our customer value proposition is much greater today than it has ever been with our many resources. Business doesn't move around a lot. Being competitive is a given — having a positive impact on total cost is our goal."
SWBC's Grant doesn't see current market conditions any different than previous soft markets he's experienced in his 22-year insurance career. "We have had two accident years go by and we are well into a third one … if we have a softer hurricane season again, it could very well prolong this," he said.
Knowing just when the market might turn again is the million-dollar question.
"Well, I wish I had that crystal ball," Brown replied. He said he could "easily see another two to three years or longer" for the soft market to continue. "The market likely won't change for a while unless the subprime meltdown impacts the industry more severely than anticipated or we have another large disaster."
Even so, Brown says that many larger risks have had competitive prices all along. "A lot of times the better risk, larger risks' prices don't move a lot regardless of market conditions," he said. "If you are taking more of the risk yourself then you are less impacted by market swings." The guaranteed cost buyers feel it most, he added.
Grant believes the nation's economy is somewhat of a barometer for insurance market conditions. "As the economy becomes more difficult … we are seeing much lower return on investments … [and] that generally translates into the market starting to harden," he said.
Commercial Insurers Could See Downgrades in Soft Market
---
The U.S. commercial lines property/casualty insurance "soft" pricing cycle will likely mean outlooks on some commercial lines insurers will be revised to negative in the second half of 2008, according to Standard & Poor's Ratings Services.
S&P says that if price declines continue at their current pace, resulting negative outlooks on individual commercial lines insurers in the second half of 2008 could in turn lead to a negative outlook for the commercial lines sector toward the end of the year. A negative sector outlook signals that S&P expects downgrades to exceed upgrades in the following 12 months.
The negative impact of declining prices — combined with increasing loss costs — is compressing economic margins, and this will increasingly show up in reported earnings, S&P says. The potential impact of falling rates on earnings in 2008 and, particularly, 2009 would be the main reason for revising the outlooks on individual companies and, ultimately, the commercial lines sector.
Was this article valuable?
Here are more articles you may enjoy.
From This Issue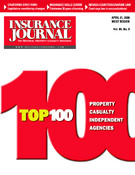 Top 100 Retail Agencies; Medical Professional Liability; Top Performing P/C Insurers: 1Q