Western National, Wisconsin American
Western National Insurance Group has finalized its affiliation with Wisconsin American Mutual Insurance Co. of Fond du Lac, Wis. Wisconsin American will continue to operate as a separate entity, with local management provided by James Herrick. Dennis Ballinger, senior vice president of Western National, has assumed the role of liaison to Wisconsin American to ensure appropriate support and sharing of resources.
Western National Insurance Group, headquartered in Edina, Minn., consists of five active companies: Western National Mutual Insurance Co.; Western National Assurance Co.; Pioneer Specialty Insurance Co.; Titan Property & Casualty Insurance Co.; and Wisconsin American Mutual Insurance Co.
Donegal Group, Michigan Insurance
Donegal Group Inc. is acquiring all of the outstanding stock of Michigan Insurance Co., a majority-owned stock subsidiary of West Bend Mutual Insurance Co. Michigan Insurance Co., headquartered in Grand Rapids, Mich., writes property/casualty insurance exclusively in Michigan. The company had direct written premiums of $106.6 million and net written premiums of $26.7 million for the year ended Dec. 31, 2009.
Michigan Insurance currently participates in a quota share reinsurance agreement with West Bend, whereby West Bend assumes 75 percent of Michigan Insurance's business. Michigan Insurance will enter into a 50 percent quota share agreement with third-party reinsurers and a 25 percent quota share reinsurance agreement with Donegal Mutual Insurance Co. to replace the current quota share reinsurance agreement with West Bend.
Donegal Mutual Insurance will include its assumed business from Michigan Insurance in its pooling agreement with Atlantic States Insurance Co. Over time, Donegal Group Inc. and Donegal Mutual Insurance Co. will have the ability to reduce the level of external quota share reinsurance and thereby provide additional premium growth for the Donegal Insurance Group. Based on Michigan Insurance Co.'s historical underwriting experience and profitability, Donegal Group believes the acquisition and reinsurance arrangements will be accretive to its earnings upon completion of the acquisition.
The purchase price will be calculated based on the GAAP book value of Michigan Insurance as of the closing date of the transaction. Donegal Group estimates that the amount payable to Michigan Insurance shareholders will be approximately $39 million.
Donegal Group had approximately $936 million in total assets and approximately $385.4 million in stockholders' equity as of March 31, 2010. Donegal Group's insurance subsidiaries and Donegal Mutual Insurance Co. conduct property/casualty insurance business together as the Donegal Insurance Group in 18 mid-Atlantic, midwestern and southern states. The Donegal Insurance Group has an A.M. Best rating of "A."
Donegal Group Inc. expects to complete the transaction in the fourth quarter of 2010.
Aon, Hewitt Associates
Aon Corp. has agreed to buy human resource consulting firm Hewitt Associates in a deal worth $4.9 billion. Aon intends to integrate Hewitt with its existing consulting and outsourcing operations, Aon Consulting, and operate the segment globally under the newly created Aon Hewitt brand.
Russ Fradin, chairman and chief executive officer of Hewitt, will serve as chairman and chief executive officer of Aon Hewitt, reporting to Aon CEO Greg Case.
The aggregate consideration is valued at $50 per Hewitt share, which represents a 41 premium to Hewitt's closing stock price on July 9, 2010, the last trading day prior to the announcement of the agreement. The aggregate fully diluted equity value of the transaction is approximately $4.9 billion, consisting of 50 percent cash and 50 percent Aon stock (based on the closing price of Aon common stock on July 9, 2010.)
Hewitt is one of the world's largest HR consulting and outsourcing companies, with more than 3,000 clients in three primary business lines: consulting, benefits outsourcing and HR business process outsourcing. The combined Aon Hewitt will have revenues of $4.3 billion and 29,000 associates globally. Combined revenues for fiscal year 2009 consist of 49 percent from consulting services, 40 percent from benefits outsourcing and 11 percent from HR business process outsourcing.
Liberty Mutual
Liberty Mutual Group reorganized its commercial property, casualty and specialty lines insurance units as well as claims and loss control services for the insurer's national accounts and mid-sized business clients. The new distribution and service management group will operate through six new geographic divisions and a major accounts division.
Mark A. Butler has been appointed president of the new distribution and service management group. Deborah L. Michel is the division general manager for the Midwest.
Markel, Aspen Holdings (FirstComp)
Specialty insurer Markel Corp. has struck a deal worth at least $135 million to acquire Aspen Holdings, which sells workers' compensation under the name FirstComp to small businesses in 31 states.
Omaha, Neb.-based Aspen operates primarily through FirstComp Insurance Co., a Nebraska-domiciled insurance company; FirstComp Underwriters Group Inc. and FirstComp Insurance Agency Inc., which act as managing general agents; and REX Inc., which operates as a wholesale intermediary. Aspen's subsidiaries underwrite more than $300 million of gross written premium annually. They operate through a network of 9,000 retail agents and employ 500 people in Nebraska, Rhode Island, Nevada, California and Florida.
Following the acquisition, Aspen will continue to operate as a separate business unit, with Luke Yeransian, Aspen's current CEO, as president. The operating unit will be part of Markel's specialty admitted segment, headed by Mike Crowley, Markel's president and co-chief operating officer.
Aspen's shareholders will receive up-front consideration of approximately $135 million in cash plus certain stock option value, according to Markel.
The transaction is is expected to close before year-end. Markel, based in Richmond, Va., plans on using Aspen's technology platform to offer additional Markel Specialty product lines.
From This Issue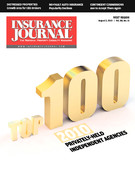 Top 100 Retail Agencies; Homeowners & Condos; Autos